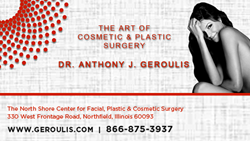 Fundamentally, I believe in effective but natural looking results. Many professionals come to me for facial cosmetic surgery because they know that after taking a few weeks off work, they will look remarkably better and younger
Chicago, IL (PRWEB) December 30, 2014
Board-certified cosmetic surgeon and director of North Shore Center for Facial Plastic & Cosmetic Surgery, Dr. Anthony J. Geroulis has extended medical office hours to 7:30 pm during the week work. The schedule change, effective immediately, is designed to accommodate working patients who cannot make it during the normal office hours of 9 am to 5 pm, Monday through Friday at the Northfield outpatient surgical facility. In addition to the Northfield location, Dr. Geroulis accommodates a variety of patients from the Chicagoland area and suburban communities with additional medical offices located in Chicago and Hoffman Estates.
Pivotal to the decision to offer evening consultation appointments on Tuesdays, reflects the notable trend of patients opting for cosmetic surgery for work-related reasons. Earlier this year, Dr. Geroulis' medical offices took note that more men and women were opting for cosmetic surgical procedures to help them keep up with the influx of younger, hired employees. With retirement being increasingly postponed, many men and women are turning to aesthetic procedures of the face, particularly eyelid lifts and rejuvenating dermal injections as well as more extensive procedures such as facelifts and neck lifts, to allow them to better integrate with co-workers and feel part of the evolving more youthful and energetic workplace.
"Fundamentally, I believe in effective but natural looking results. Many professionals come to me for facial cosmetic surgery because they know that after taking a few weeks off work, they will look remarkably better and younger, without looking tight, pulled, overdone or surgically corrected," explains Dr. Geroulis. In recent months there has been a sharp increase in inquiries at the Northfield clinic from professionals seeking rejuvenating procedures in between job interviews. The window of opportunity for these professionals is very short: they demand an undeniably younger look, within a short and precise time frame, necessitating a high level of expertise, and innovative surgical technique to deliver that kind of result. With the extended evening clinic hours, these kinds of job seekers, whether from headhunters or direct search, may now be accommodated.
"Patients report that they want co-workers in the newer job to treat them as if they were closer in age and belonging more to the group. Some are having procedures in between interviews. When men and women return from their 'surgical layover,' to subsequent interviews, interviewers have responded positively, remarking how rested they look or inquire as to whether they've lost weight or changed their hair style," explains Dr. Geroulis.
For more information about Dr. Geroulis and his fully accredited AAAHC facility, North Shore Center for Facial Plastic & Cosmetic Surgery, please visit http://www.geroulis.com. To reserve a consultation appointment at the Chicago, west or east north shore suburban locations, please call 866.875.3937.
About Dr. Anthony J. Geroulis:
Bringing over 33 years of surgical and artistic experience to the field of facial plastic & cosmetic surgery, Anthony J. Geroulis, MD, FICS, has repeatedly been named a "Top Doctor" by U.S. News & World Report. Board certified in cosmetic surgery, author and active sculptor, Dr. Anthony Geroulis is a clinical professor of surgery at University of Chicago Medicine. His practice is headquartered in Northfield, with offices in Chicago, at University of Chicago Medicine and at St. Alexius Medical Center in Hoffman Estates.