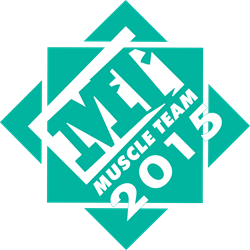 NEW YORK (PRWEB) December 30, 2014
Metro-New York athletes will be present at a VIP & Media Reception at the Muscular Dystrophy Association's 18th Annual Muscle Team Gala & Benefit Auction presented by CITGO on Tuesday, Jan. 6, 2015 at 6 p.m. at Chelsea Piers, Pier 60 (Hudson River & 23rd St.)
The 2015 Muscle Team will bring together famous athletes from the NY Giants, NY Jets, New York Red Bulls, NYRA, as well as Muscle Team Alumni, Celebrities & Sports Media.
During the Gala, each Muscle Team member is paired with an MDA Buddy - a local child affected by muscle disease. The athletes meet their MDA Buddies at a pre-event press kick off, and often build relationships that last long after the event.
FOX5/My 9 News Sports Anchor Russ Salzberg will Emcee the event and former NY Giant and Super Bowl XXV MVP Ottis Anderson will serve as the Live Auctioneer. The 2015 Muscle Team event will be led by Coaches Richard Haray of Interpublic Group and Ron LoRusso of Cushman & Wakefield.
Jason Dove of Palladium Window Solutions will receive the 2015 Champion of Spirit Award for his tremendous passion, drive and commitment towards making a difference in the lives of people fighting life-threatening muscle disease in the community.
Event guests will meet and greet the entire 2015 Muscle Team, their MDA Buddies, other celebrities and top business executives. The evening also consists of a VIP & Media Reception, pre-dinner cocktails and a gourmet sit-down dinner at Chelsea Piers' distinctive NYC waterfront setting - Pier 60.
The event is highlighted by live and silent auctions, including one-of-a-kind fantasy packages, unique sports memorabilia, trips and a chance to create a lifetime of memories by sponsoring a child to MDA summer camp in Long Island, N.Y.— also known as the "best week of the year" for many kids affected by muscle disease.
About the MDA Muscle Team Gala & Benefit Auction
The 2015 MDA Muscle Team Gala & Benefit Auction is a unique, high-profile reception and fundraiser that provides guests with the opportunity to meet professional New York athletes who have chosen to put their muscle behind the fight against muscle disease.
Since 1996, the New York MDA Muscle Team Gala has raised more than $18 million. The 2015 Muscle Team Gala & Benefit Auction is expected to raise more than $1 million to save and improve the lives of children and adults affected by muscle disease.
Funds raised at the event will build on decades of research progress, helping push science to its limits in the search for treatments and cures.
The dollars raised also help support MDA's life-enhancing programs such as state-of-the-art support groups and clinics, including local MDA Clinics at Columbia University, Hospital for Special Surgery, NYU Langone Medical center.
For tickets to the 2015 Muscle Team Gala & Benefit Auction or information about MDA's services, please call Caity Connolly at: (212) 682-5272 or visit http://www.nymuscleteam.org.
For up-to-date information about the 18th annual Muscle Team Gala, follow us on Facebook (facebook.com/ManhattanMDA) and Twitter (@MDAManhattan).
About MDA
The Muscular Dystrophy Association is the world's leading nonprofit health agency dedicated to saving and improving the lives of people with muscle disease, including muscular dystrophy, amyotrophic lateral sclerosis (ALS) and other neuromuscular diseases. It does so by funding worldwide research to find treatments and cures; by providing comprehensive health care services and support to MDA families nationwide; and by rallying communities to fight back through advocacy, fundraising and local engagement.