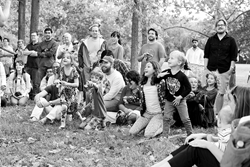 Our intention is to offer fun, unique and participatory experiences that bring the arts to life for audiences of all ages.
INDIANAPOLIS (PRWEB) December 30, 2014
The first Saturday of the month will be transformed into a day of exploration, adventure and play with the Indianapolis Museum of Art's new Family Day series, debuting Jan. 3.
Each month will feature unique thematic programming catered to children and families, including special performances, hands on activities and a new family friendly film series. The accompanying Cereal Cinema series, presented in partnership with Indy Film Fest, will showcase children's films from the 1970s and '80s along with a cold cereal bar in The Tobias Theater (The Toby) beginning at 10 a.m. Family programming and activities will be offered from 11 a.m. to 3 p.m.
Family Day is a core component of the IMA's recently launched ARTx series, made possible with a $1 million gift from The Efroymson Family Fund, a fund of Central Indiana Community Foundation (CICF).
The series, spearheaded by the IMA's first-ever curator of audience experiences and performance, Scott Stulen, offers dynamic, accessible and highly interactive experiences designed to enhance visitor experience and engage new audiences.
"Each month will feature a mix of thematic adventures for both kids and their parents from musical performances to art making activities, family films to special kid-focused tours," Stulen said. "Our intention is to offer fun, unique and participatory experiences that bring the arts to life for audiences of all ages."
As with IMA community days, such as the upcoming Martin Luther King Jr. Celebration: Speaking of Love on Jan. 18, Family Days will provide a variety of activities for youth of all ages.
The first four Family Days will be free and open to the public. Programs include:
Family Day Kickoff
Jan. 3
Family Day kicks off with a day of celebration! Begin the morning with a screening of An American Tail, the first film in the new Cereal Cinema series. After the show, enjoy art making activities, storytelling and clogging workshops in a cozy, new IMA space. Later in the day, rock out at an exclusive free concert from the Grammy Award-winning children's folk band, The Okee Dokee Brothers. The concert is free for the public, but make sure to reserve your ticket to ensure that you don't miss the show!
Year of the Sheep
Feb. 7
Ring in Chinese New Year and the Year of Sheep by helping to build a Lego mandala, designing your own lantern and participating in a sumi-e workshop. This event is presented in partnership with the Asian Art Society.
Hip Hop U
March 7
Create street art, learn to break dance, experience live B-Boy and DJ battles, take special tours of IMA artworks influenced by urban culture, and enjoy special performances from break dancers and spoken word artists. Cereal Cinema will feature the '80s cult classic Breakin' 2: Electric Boogaloo.
Museum Madness
April 4
With the NCAA Final Four Championship in town, this Family Day focuses on competition and play. Kick off the day with a screening of Space Jam for Cereal Cinema. Next, we'll transform The Pulliam Family Great Hall into a basketball court, with gallery guides doubling as referees issuing art fouls (with penalties!) This game day will feature special halftime performances by cheerleaders and drum lines, themed art activities and tours of the collection based on famous rivalries.
Additional Family Day programming for the 2015 season will be announced in the upcoming months. Learn more at imamuseum.org.
About the Indianapolis Museum of Art
Founded in 1883, the Indianapolis Museum of Art serves the creative interests of its communities by fostering exploration of arts, design and the natural environment. Encompassing 152 acres of gardens and grounds, the IMA is among the 10 oldest and 10 largest encyclopedic art museums in the United States and features significant collections of African, American, Asian, European, contemporary art and design arts that spans 5,000 years of history. Additionally, art, design and nature are featured at The Virginia B. Fairbanks Art & Nature Park: 100 Acres, Oldfields–Lilly House & Gardens, a historic Country Place Era estate and National Historic Landmark on the IMA grounds, and the Miller House and Garden in Columbus, Indiana, one of the country's most highly regarded examples of mid-century Modernist residences. For more information visit http://www.imamuseum.org.
About the Efroymson Family Fund
The Efroymson Family Fund, a donor-advised fund of the Central Indiana Community Foundation, continues a long legacy of charitable commitment by the Efroymson family in central Indiana. The Efroymson Family Fund was established in 1998 by Dan and Lori Efroymson to promote the viability of communities and to date has awarded more than $80 million in grants in central Indiana and beyond. For more information about the Efroymson Family Fund, visit cicf.org.
###