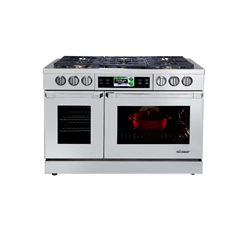 Dacor has received an overwhelming response to its smart kitchen technology. -- Dacor CEO Chuck Huebner.
Los Angeles, CA (PRWEB) December 30, 2014
Dacor®, a leading manufacturer of ultra-premium cooking appliances, will unveil Voice Activated kitchen technology at the 2015 CES Unveiled event series January 4th in Las Vegas.
Recent industry research published by Forbes indicates that 58 percent of Americans use their smart phones in the kitchen some or all of the time. To address the growing needs of the busy, multitasking home chef, Dacor now enables customers to use smart phones or tablets to remotely control their Discovery iQ™ cooking appliances without even lifting a finger – literally.
Dacor smart cooking appliances, such as the award-winning Discovery iQ™ 48" Dual-Fuel Range launched in 2014, features the Dacor iQ Remote App. This proprietary technology makes it possible for home chefs to control the range via any smart phone or tablet. It also enables users to upgrade their devices remotely with new features, such as the unprecedented Voice Activation technology.
This new feature allows customers to control their smart appliances by voice command through the Dacor iQ Remote App, from anywhere they are connected. This elevates the level of remote convenience for the home chef. Whether entertaining outdoors, serving appetizers to guests, or running late from the office, Dacor customers can now control their iQ products conveniently and hands-free.
"Dacor has received an overwhelming response to its smart kitchen technology," says Dacor CEO Chuck Huebner. "The modern home chef values the convenience that connected kitchen appliances provide, which is why we strive to offer smart features like Voice Activation and ongoing software upgrades that will actually improve the overall cooking experience."
"In 2015, we will be celebrating 50 years of innovative kitchen design," says Dacor President Steve Joseph. "The kitchen is the heart of family life, and as families evolve, so must kitchen technology. Today's home chefs are busier than ever, and voice activation is one more feature that will help meet the needs of their demanding schedules."
The new Voice Activation technology will be available Spring 2015 in the Discovery iQ line of products, including the Discovery iQ 48" and 36" Dual-Fuel ranges, and single and double wall ovens.
Dacor will be unveiling its new Voice Activation feature and exhibiting other smart kitchen products at Table #36 during CES Unveiled Las Vegas.

Advanced Diagnostics is built into the range and aids in optimal product performance.
Discovery iQ™ Recipe Box allows users to easily store recipes found online directly to the smart range (and ovens).
Dacor's innovative appliances have been recognized with many prestigious awards including:

Digital Trends Best of Consumer Electronics Show (CES) Home Award
Kitchen & Bath Industry Show (KBIS) Best in Show
Kitchen & Bath Industry Show (KBIS) Best of Kitchen – Gold
Kitchen + Bath Business (K+BB) Product Innovator Award
Better Homes & Gardens Kitchen + Bath Ideas 30 Most Innovative Products Award
2013 and 2014 GOOD DESIGN™ Awards
CES Envisioneering Innovation & Design Award Honorees
ABOUT DACOR
Celebrating its 50th anniversary in 2015, Dacor is a manufacturer of ultra-premium kitchen appliances. Designed and built in California, Dacor's cooking appliances integrate function and technology to create high-performing, intuitive products that reflect the lifestyle and needs of the passionate cook. Since 1965, Dacor has been responsible for many of the innovations that have improved the way people cook in the modern kitchen. Dacor is family-owned and embraces the legacy, heritage and expertise of a third generation to lead the company into a new age of cooking innovation. For more information about Dacor and its products, visit dacor.com.
ABOUT CES UNVEILED LAS VEGAS
CES Unveiled Las Vegas is the official media event of the International CES. It's the ideal occasion for brands to build that buzz and stand out in the days leading up to the show. This annual networking event will also feature the 2015 CES Innovation Awards Honorees. From innovative startups to established brands, companies attend CES Unveiled to prompt media coverage and mingle with 1,200 media from around the world. This year's CES Unveiled Las Vegas event series will be held from 4-7 p.m. on January 4th, 2015 in the South Seas Ballroom C, located on Level 3 of the Mandalay Bay Resort and Casino.
ABOUT THE INTERNATIONAL CONSUMER ELECTRONICS SHOW (CES)
The International CES is the world's gathering place for all who thrive on the business of consumer technologies. It has served as the proving ground for innovators and breakthrough technologies for more than 40 years—the global stage where next-generation innovations are introduced to the marketplace. As the largest hands-on event of its kind, CES features all aspects of the industry. And because it is owned and produced by the Consumer Electronics Association (CEA), the technology trade association representing the $211 billion U.S. consumer electronics industry, it attracts the world's business leaders and pioneering thinkers to a forum where the industry's most relevant issues are addressed. Follow CES online at http://www.CESweb.org.
###