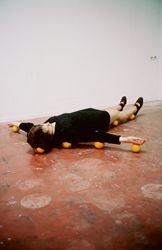 I am so thrilled to present the great variety of Wurm's broad artistic practice at the IMA, not only in our Efroymson Family Entrance Pavilion and contemporary galleries, but also in a few of our historical European galleries.
INDIANAPOLIS (PRWEB) December 31, 2014
Museum visitors will become the subjects of irreverent, participatory sculptures starting next month at the Indianapolis Museum of Art with the exhibition, Erwin Wurm: Euclidean Exercises.
Beginning Jan. 16, internationally recognized Austrian artist Erwin Wurm will present his popular One Minute Sculptures in the Efroymson Family Entrance Pavilion and other locations throughout the IMA. Through his iconic One Minute Sculptures, Wurm invites the viewer to complete his works of art, challenging the static form of traditional sculpture. On empty platforms Wurm provides instructional drawings and everyday items such as cleaning bottles and shoes so the visitor can bring the artwork to life. Participants are encouraged to step onto the platform and hold the humorous, often absurd pose for 60 seconds, creating fleeting sculptures that can be captured only by camera and one's memory. Visitors will also be invited to share photos of their realized One Minute Sculptures on social media using the hashtag #IMAWurm.
In other locations throughout the IMA, such as the Clowes Pavilion and various galleries, visitors will encounter other works by Wurm including static sculptures, photographs and video. By experiencing Wurm's contemporary works in selected historical galleries, guests are reminded that all art was once contemporary.
Also displayed is the Red Hot Chili Peppers' 2003 music video for "Can't Stop." The video, a collaboration between director Mark Romanek, the band and Wurm, features the musicians enacting Wurm's One Minute Sculptures.
"I am so thrilled to present the great variety of Wurm's broad artistic practice at the IMA, not only in our Efroymson Family Entrance Pavilion and contemporary galleries, but also in a few of our historical European galleries," said Tricia Y. Paik, the IMA's curator of contemporary art. "Creating a dialogue across the centuries, between the past and the present, is the kind of meaningful connection that an encyclopedic museum such as ours can foster for our audiences. Presenting Wurm's intelligent and highly original work offers the perfect opportunity to make these correspondences."
This exhibition is made possible by The Efroymson Contemporary Art Fund, an endowed fund at the IMA that was established in 2006 by the Efroymson Family Fund to support work by emerging and established local, national and international contemporary visual artists through a rotating installation program in the Efroymson Family Entrance Pavilion. Past artists and collectives whose work has been supported by the Fund include Allora & Calzadilla, Ball-Nogues Studio, Tony Feher, Spencer Finch, Friends with You, Orly Genger, William Lamson, Judith G. Levy, Mary Miss, Julian Opie, Heather Rowe, Alyson Shotz, Julianne Swartz, Spencer Finch and Sopheap Pich.
On Jan. 15—the evening before the public opening— the IMA will host a conversation between Wurm and Paik at 6:30 p.m. in The Toby. Immediately following at 7:15 p.m., Wurm will present a special one-time performance titled Carry the Curator. Both events are free and open to the public.
About Erwin Wurm
Born in Bruck an der Mur in Styria, Austria in 1954, Wurm studied at Gestaltungslehre University of Applied Art and the Academy of Fine Art, Vienna, Austria. Wurm has been featured in solo exhibitions at the Städel Museum, Frankfurt, Germany (2014), Museum of Contemporary Art, Krakow, Poland (2013), CAC Malaga, Spain (2012), Dallas Contemporary, Texas (2012), Bass Museum of Art, Miami (2011), Middleheimmuseum, Antwerp, Belgium (2011), Kunstmuseum Bonn, Germany (2010), Ullens Center for Contemporary Art, Beijing, China (2010), Kunstmuseum St. Gallen, Switzerland (2008), among many others since 1999. In 2011, Erwin Wurm's Narrow House was installed at the Palazzo Cavalli Franchetti as part of Glasstress 2011, a collateral event of the 54th Venice Biennale. Works by Wurm are represented in museum collections around the world, including Albertina, Vienna, Austria; Vancouver Art Gallery, Canada; Centre Georges Pompidou, Paris, France; Musée National d'Art Moderne, Paris, France; Kunstmuseum Bonn, Germany; Museo d'Arte Moderna di Bologna, Italy; CAC Malaga, Spain; Kunsthaus Zurich, Switzerland; Solomon R. Guggenheim Museum, New York; Walker Art Center, Minneapolis; and Albright-Knox Art Gallery, Buffalo, New York, among others. Wurm currently resides in Vienna, Austria. The artist is represented by Lehmann Maupin, New York and Hong Kong.
About the Efroymson Family Fund
The Efroymson Family Fund, a donor-advised fund of the Central Indiana Community Foundation, continues a long legacy of charitable commitment by the Efroymson family in central Indiana. The Efroymson Family Fund was established in 1998 by Dan and Lori Efroymson to promote the viability of communities and to date has awarded more than $80 million in grants in central Indiana and beyond. For more information about the Efroymson Family Fund, visit cicf.org.
About the Indianapolis Museum of Art
Founded in 1883, the Indianapolis Museum of Art serves the creative interests of its communities by fostering exploration of arts, design and the natural environment. Encompassing 152 acres of gardens and grounds, the IMA is among the 10 oldest and 10 largest encyclopedic art museums in the United States and features significant collections of African, American, Asian, European, contemporary art and design arts that spans 5,000 years of history. Additionally, art, design, and nature are featured at The Virginia B. Fairbanks Art & Nature Park: 100 Acres, Oldfields–Lilly House and Gardens, a historic Country-Place-Era estate and National Historic Landmark on the IMA grounds and the Miller House and Garden in Columbus, Indiana, one of the country's most highly regarded examples of mid-century Modernist residences. For more information visit http://www.imamuseum.org.
###