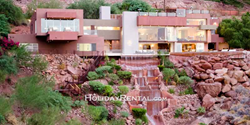 This house is absolutely spectacular! We spent the first 30 minutes excitedly running around from room to room -- each room was more magnificent than the next!
Phoenix, AZ (PRWEB) December 31, 2014
When it comes to vacationing, there are many options as to where to stay on a trip. For those who are looking for a private, secluded place to rest their heads at the end of a busy day, a hotel or resort no longer fits the bill. Instead, many celebrities, executives, and families have turned to luxury vacation rentals, and it appears this trend will continue into 2015 and beyond.
While most people vacation to get away from home, they still long for the comforts with which they're familiar: comfortable beds, spacious living areas, a chef's kitchen, and a private pool and spa. Luxury vacation rentals open privately owned homes to vacationers for a weekend, a week, or a month at a time and naturally provide all of the comforts one would expect. And for celebrities and athletes who are looking for an escape from the hustle and bustle of hotels and resorts, a secluded villa is the perfect way to marry luxury with privacy.
"Many of our guests appreciate luxury vacation rentals because they are removed from the busy resort scene," said Ryan Liebentritt, principal at HolidayRental.com, a fully integrated luxury hospitality company based in Phoenix, Ariz. "At our beautiful villas, guests enjoy limitless amenities, including a personal concierge, while achieving the privacy they desire," he continued.
And they're not alone.
According to a 2014 study by TripAdvisor, vacation rentals are preferred over hotels due to the additional amount of living space, lower rates than hotels, and better amenities. Rental companies such as HolidayRental.com provide additional services that their discerning guests require, including a personal chef, stocked kitchen, private car and driver, and an itinerary of activities to enjoy the surrounding area.
"We have a portfolio of one-of-a-kind homes across the country that are in the middle of the action while still being secluded enough to avoid crowds and the paparazzi," noted Liebentritt. Starting at $2,000 a night, only a certain clientele is attracted to these luxury vacation rentals, and they appreciate the privacy and amenities, according to HolidayRental.com.
"This method of visiting an area — by settling into a comfortable home — is here to stay, and we are thrilled to provide our guests with this option," Liebentritt concluded.
About HolidayRental.com
A fully integrated luxury hospitality company, Holiday Rental has a portfolio of multimillion-dollar homes across the Phoenix metro area and Arizona, as well as in Lake Tahoe, Hawaii, and California. Learn more about their luxury vacation rentals at HolidayRental.com or by calling 888-693-5078.