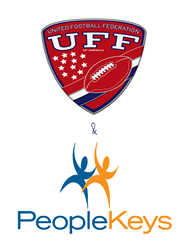 Whether they're playing in a league like the UFF, on a club team, in the NFL, or even just recreationally, football players can learn a lot from DISC personality analysis.
Boardman, Ohio (PRWEB) December 31, 2014
In football, player morale and relationships have a significant impact on team performance. In an interview scheduled to air on January 23 at 6:45pm on UFF Game Talk http://www.blogtalkradio.com/uffofamerica, PeopleKeys' Josh Levoff will discuss the ways in which DISC, a popular method of personality testing and behavioral analysis, can be used to strengthen football teams both on and off the field. In the interview, Levoff will share DISC strategies for handling interpersonal conflict, building strong team relationships, and boosting player morale.
When asked what else listeners could expect from the interview, Levoff said he plans to show how DISC can be used to understand the connection between personality type and player behavior. Levoff said, "Great coaches know that the personality of players should affect how they are managed. Whether it's an interpersonal conflict, an injury, a training regimen, or issues tied to game-day performance, all of these things are experienced differently by players with different personality types. It's difficult to effectively manage a team if you don't understand the dynamics between personality, communication, and performance."
DISC is a method of personality testing that was created by Harvard-educated Dr. William Marston in the late 1920s. With DISC, individuals take a brief personality test and receive a personality profile that graphs their personality according how strongly it exhibits four major personality styles: dominant "D," influential "I," steady "S," and conscientious "C." Each style exhibits shared patterns of behavior, demonstrates common talents and shortcomings, and interacts with other personality types in predictable ways. DISC is frequently used around the world by organizations looking to find strategies to improve performance, identify individual strengths, prevent conflict, build strong teams, and increase morale. More and more frequently, DISC is being used by coaches and team managers looking to find a competitive edge.
"Whether they're playing in a league like the UFF, on a club team, in the NFL, or even just recreationally, football players can learn a lot from DISC personality analysis," Levoff explained. "The better the relationships are on a team, the higher morale will be. That leads to a team that's more motivated and cohesive. Again, DISC can be a great help here. As a player, you may not have control over the mix of personalities on a team, but when you understand basic patterns of human behavior, you have the ability to control how you handle conflicts, interact with teammates, and make a place for yourself as an essential member of the team. DISC gives you a tactical advantage, on and off the field. You can even learn to read other people's personalities, and get a sense of what to expect from their behavior. This can be enormously helpful when it comes to game day."
UFF Game Talk, the program airing Levoff's interview, is hosted by Molly Hill and Alice Mary Herden. Though their content is relevant to all football clubs and organizations, the podcast focuses on the United Football Federation of America, a minor-league football organization located in Florida and the Southern Tri-State area. UFF Game Talk features in-depth discussions with members of the UFF, as well as interviews with NFL and AFL players and coaches. Topics range from coaching, training, fitness, strategy, sportsmanship and athleticism, and more.
To access the interview with PeopleKeys' Josh Levoff and learn more about the ways that DISC can be used as a helpful tool for players and coaches, visit UFF Game Talk on January 23rd at 6:45pm. After the initial airing, the interview will be also available to stream on-demand.
About PeopleKeys
PeopleKeys has been providing tools to measure the connection between personality and human behavior for over 30 years. PeopleKeys believes that an understanding of human behavior can be used to create effective leaders, build strong teams, improve relationships, achieve personal goals, and resolve conflict. Their DISC personality tests and behavioral analysis tools have been translated into over a dozen different languages, and are sold around the world. For more information about PeopleKeys and their DISC solutions, please contact Marketing Manager Kaitlyn Miller at 330-599-5580 x113.
About BlogTalkRadio
BlogTalkRadio (http://www.blogtalkradio.com/) is the world's largest online radio network, with over 30 million listeners per month. BlogTalkRadio gives voice to thousands of experts who host shows on every kind of topic — from politics and current affairs, entertainment and sports to health and finance.