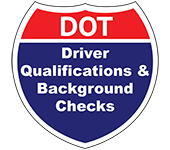 Fort Worth, Texas (PRWEB) January 01, 2015
Mike Coffey, president of Imperative Information Group, will present the webinar "DOT Driver Qualifications and Background Checks" on Wednesday, January 28 from 1:00pm to 2:00pm CST. This webinar is one of six webinars in a series designed to guide employers on conducting legal and effective background checks. Other topics in the series include What Employers Need to Know About Criminal Background Checks, Background Screening Considerations to Avoid Discrimination Claims, and Creating a Criminal History Evaluation Tool.
If you currently have DOT (Department of Transportation) covered employees in your work force, it is important for employers to have a full understanding of the DOT requirements. Furthermore, employers must be aware of the Federal Motor Carrier Safety Administration Requirements (FMCSR's) that affect driver background checks.
January 28, 2015: DOT Driver Qualifications and Background Checks: The Federal Motor Carrier Safety Regulations list a host of requirements for employers regulated by the Department of Transportation. In this presentation, Mike will discuss the FMCSR's requirements for the employment application and the employment background check process.
This educational session has been approved for one hour of general recertification credit through the HR Certification Institute. Coffey's webinars are designed to educate employers about the technical, legal, and policy issues surrounding employment–related background investigations. Coffey normally delivers free webinars monthly for HRCI recertification credit. Additionally, he will routinely deliver these same presentations to SHRM chapters, chambers of commerce, and other business groups.
HR professionals and business owners can register for each of Imperative's free webinars at http://www.imperativeinfo.com/webinars. Previews of many of the webinars are also available on Imperative Information Group's website.
About Mike Coffey and Imperative Information Group:
Imperative Information Group is a Fort Worth, Texas based employment background screening firm serving small to medium-sized employers in a variety of industries. Mike Coffey is a certified Senior Professional in Human Resources (SPHR) by the HR Certification Institute. He is also a regional director of the Texas SHRM and a board member for the Texas Association of Business. To learn more about Imperative Information Group, please visit imperativeinfo.com or contact Mike Coffey or Andrew Parsons at 877-473-2287. If you would like to arrange for Mike to speak to your group, ask for Mallory Campbell.