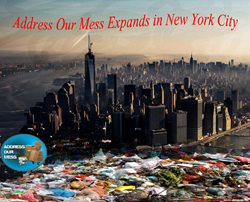 We give them valuable square footage back
New York City, NY (PRWEB) December 30, 2014
Looking to help resolve the clutter problems in the greater New York Metro area has been of paramount importance to Address Our Mess. Recently this clutter cleanup company has added a new member to its staff to handle the increasing demands of service New York area. The demands of the area vary significantly from hoarding to clutter cleanup to hoarding wok. The increasing demands for these types of services as a result has called for an increase in the amount of personnel to handle the demands. As a result of the increasing demands for our service they have added another Case Manager named Kevin Givens.
Kevin has years' worth of experience working within the restoration industry and has wanting to become involved in the heavy duty cleaning industry. Growing up in Queens, Kevin has lived in the city his entire life and is familiar with the demands and unique ways that New Yorkers have to live in order to survive in this metropolis. His experience in dealing with severe clutter and cleaning situations are a valuable asset that was added to this company and will be helpful for the foreseeable future.
Address Our Mess stands by to help the citizens of New York with a variety of different situations. These situations vary significantly from one area to another. When looking to handle the clutter cleanup in apartment buildings they are as discrete as possible in order to avoid ire of nosey neighbors. And, we make apartments return to livable and clean conditions. This is especially critical for the tight areas where New Yorkers live and interact in their daily lives. With people in this area always looking for more space in space lacking purposes Address Our Mess helps fill a critical niche that many New Yorkers need.
Often quoted by many people that this company has done work for in the past in the New York area is that we give them valuable square footage back. In a pricey place such as the city and more specifically the borough of Manhattan you cannot necessarily expand your home for more items, because of the astronomical prices that land and units go for. Address Our Mess offers a service that is respectable and treats our clientele with a great amount care in the situations that they are placed.
When looking for heavy duty cleaning in New York City think of Address Our Mess. They have crews and case managers that have years of experience in dealing with all variety of situations. Their crews cover the entire state along with the greater New York City Metropolitan area.