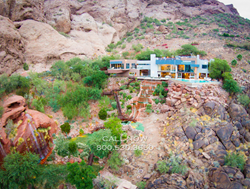 Phoenix, Arizona (PRWEB) December 31, 2014
When Super Bowl XLIV kicks off at the University of Phoenix Stadium in Glendale, Ariz. on February 1, the world will be watching. For some elite few who can afford to attend the game in person, however, that experience will be elevated beyond the level most armchair quarterbacks can imagine. And for an even more select group of discerning luxury travelers, an all-inclusive package is exactly what will make this game one for the record books. Holiday Rental, a fully integrated luxury hospitality company with a plethora of unique luxury villas in its portfolio, has created the perfect vacation for those who spare no expense for a good time.
HolidayRental.com has made a business out of making available gorgeous, one-of-a-kind homes for the night, week, or month to executives, celebrities, athletes, and corporate retreats. Their portfolio includes cozy getaways in the mountains of Arizona and Nevada as well as secluded contemporary masterpieces looking out over Phoenix and Scottsdale. For the big game in February, HolidayRental.com naturally has many of their Phoenix-area villas available to rent for the week so that revelers will have a comfortable place away from the hustle and bustle when they're ready to relax. For those travelers who put no limit on their vacation budgets, the company has a package that will make other adventures pale by comparison.
In addition to a week at one of their luxury villas, guests will receive a four-pack of 50-yard-line tickets to the big game; front-row seats to the halftime entertainment featuring Katy Perry; four tickets to the Waste Management Open, which runs January 26 through February 2; a limo and driver for the week; a personal chef and all meals; unlimited spa services at the home; a private jet tour of Phoenix and nearby Sedona; and a meet-and-greet after the game with the players and halftime performers. The package has a price tag of $500,000 and includes everything but travelers' method of getting into the Valley of the Sun.
"We wanted to take full advantage of having the Super Bowl in the Phoenix metro area," said HolidayRental.com principal Ryan Liebentritt. "Our homes are showcases all on their own, but when paired with the little amenities our team loves to provide, they provide the backdrop for a once-in-a-lifetime vacation."
HolidayRental.com provides a complimentary personal concierge with each luxury villa rental, and it is the job of that team member to answer questions and provide anything guests desire during their stay, whether that is just transportation from the airport or a full itinerary of activities.
"Phoenix and Scottsdale are havens for the luxury traveler because of everything we have to offer here, from outdoor activities to world-class shopping and entertainment," continued Liebentritt. "Our villas are in the middle of the action, but because they are located in private residences in quiet communities, they provide a level of seclusion that guests cannot achieve in a resort setting. We pride ourselves on our discretion and ability to exceed expectations at every turn."
To learn more about these exclusive packages offered through HolidayRental.com, visit HolidayRental.com or call 888-811-2516.