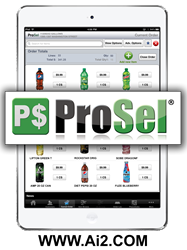 The vendor who has access to the most actionable information in the field will win more business.
CHICAGO, IL (PRWEB) January 05, 2015
Mobile application developer Ai2 today announced that Minges Bottling Group, a leading bottler and distributor of Pepsi products based in North Carolina, will use Ai2's mobile sales force automation (SFA) and order management solution ProSel® for its field sales team. ProSel is a native application for iPad.
Minges' sales reps had already deployed iPads and were using other business applications on the tablet in addition to carrying a rugged handheld mobile computer. The company wanted to improve efficiency and reduce support cost with a one-device solution. Minges' field sales reps needed, for example, to scan barcodes in the field, which ProSel handles with ease.
According to the Minges' management team, Ai2 stood out in the vendor search for its experience, its application and the implementation team that works on every project. Upselling features, product images, the ability to display and organize marketing information, and the handling of order guides (segmented lists of products) were factors that led Minges Bottling Group to select ProSel. ProSel will be deployed to approximately 50 pre-sales representatives in the field.
"More and more distributors across the world are realizing that mobile capability is not a luxury, but a necessity," said Douglas Katich, CEO for Ai2. "In a very competitive marketplace, the vendor who has access to the most actionable information in the field will win more business. We're very excited to have Minges Bottling Group join our customer family and we're going to help their team increase productivity," added Katich.
ProSel is a mobile SFA order management system for salespeople and retailers in wholesale, distribution, and retail. The app features a fast catalog browse, product image display, order history, pricing information, barcode scanning, shelf tag and receipt printing, and remote sync capabilities.
The Minges Bottling Group began in 1923 in Greenville, North Carolina. They purchased the bottling rights to Pepsi-Cola in 1935, expanded their portfolio with Mountain Dew in 1962, and currently distribute a wide variety of soft drinks and specialty beverages. The company is now a fourth-generation family-owned operation covering the state of North Carolina. For more information, visit http://www.mbgpepsi.com/
Ai2 helps wholesalers and distributors automate their sales processes with a suite of mobile solutions for sales orders, deliveries, and mobile marketing. The company was founded in 1986, has a user community of more than 100,000, and helps companies capture more than $100 billion in sales orders annually. Ai2 is partnered with Apple Business and certified by Zebra. For more, visit Ai2.com.