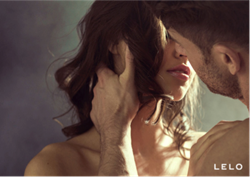 83% of women say they are confident to tell their partner what they want in bed. This figure was only 67% in 2009.
Stockholm/San Jose (PRWEB) December 31, 2014
Love it or hate it, it's impossible to ignore the fact that 50 Shades of Grey has helped open up an international discussion about sex and sexual roles. Leading sex toy designers LELO have been analyzing this shifting trend over the past 5 years, and with the movie coming this Valentine's Day, 2015 will be the year that sees the end of the taboo on sexual communication.
While in 2011 the 50 Shades trilogy exposed a fantasy world of BDSM to the public, LELO's findings show couples in 2015 have reached a new maturity in the expectations they have for their sex lives, recognizing that sexual confidence doesn't necessarily come from role-playing but from being able to honestly communicate what they want. The exploration of sexual roles is a product of good communication, not the other way around.
LELO has been carrying out an annual global survey since 2009. This year almost 50,000 people from over 30 countries took part through 2014 and the results have revealed a very clear shift in sexual openness:

83% of women say they are confident to tell their partner what they want in bed. This figure was only 67% in 2009.
74% of respondents are open about owning a sex toy. This figure was only 38% in 2011.
Almost half of all respondents would be comfortable giving a family member a sex toy. In 2011 only 7% of respondents were.
81% of respondents say they are sexually satisfied compared to less than 70% in 2014 and 2013.
Steve Thomson, LELO Head of Marketing said: "In the past 5 years, there has been a significant change in how we communicate about sex. The taboo is finally dead. 50 Shades played a huge role in exposing the masses to a thriving subculture of vibrant sexuality, of embracing one's most secret desires. But 2015 is the year that it will finally come to a head: the lid is about to blow off the box of the taboo."
He added: "This year will see discussions, arguments and revolution about sexuality and not just in the media. We will all be debating – with our partners, friends and even family members. 2015 will explode the conversation about body ownership and about the perception of women's roles in sex. This year, mainstream conversation will lead ever more of us to step out of the shadows and bare ourselves in all our colorful and complex beauty, and in doing so push the boundaries of sexual understanding and tolerance that little bit more."
To take part in the in the LELO 2015 Global Sex Survey visit http://www.lelo.com/survey. The survey takes about 4 minutes and all respondents receive a 20% discount for LELO.
Some of the 2014 results can be viewed in LELO's World Cup of Sex.
Note to Editors: All media inquiries can be directed to pr(at)lelo(dot)com
LELO is the world's leading designer brand for intimate lifestyle products. On launching in 2003, LELO transformed the look, feel and function of how personal massagers were perceived, and now applies the same commitment to quality and innovation through bedroom accessories, soy massage candles and a premium line of silk intimate apparel. LELOi AB is the Swedish company behind LELO, where offices extend from Stockholm to San Jose, from Sydney to Shanghai.