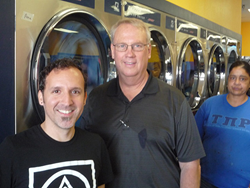 "Lower income families must provide food and shelter first and clean laundry was one of the great equalizers. There was no help for it." Jason Sowell
Las Vegas, NV (PRWEB) December 31, 2014
Two special hours on Saturday, December 6, jump-started the holiday spirit for a very appreciative group of Las Vegas residents. "The Laundry Love Project," was a community-building and eye-opening experience for volunteers and recipients alike. The Laundry Project, a national initiative of Florida nonprofit, Current, partners with local churches and community groups to provide citizens with the basic, often overlooked, necessity of clean clothes.
President and founder of Current, Jason Sowell, started the project six years ago after realizing that, "Lower income families must provide food and shelter first and clean laundry was one of the great equalizers. There was no help for it." The group reaches out to local churches for volunteers and donations. "It gives our youth volunteers, many of whom are more fortunate and take clean clothes for granted, a perspective on the world."
Sowell carefully selects local facilities that are clean, bright and have perfectly working equipment. He feels this indicates that the owner cares about his business and the community. Bruce and Leise Gilliat, owners of Las Vegas Coin Laundry and Neal Rooney and Tim Gaud, A+ Laundromat's owners, who are proud to provide the best possible experience for their clients, were happy to personally donate the needed funds to add a full hour to the event at their facilities. "The Laundry Love Project is a wonderful idea that helps many of our less fortunate customers," said A+ owners Rooney and Gaud. "We are blessed that Jason, from current.org, has chosen our laundromat to host this yearly event. Our customers are more than grateful for the added help during the holiday season. A+ Laundromat is happy to be a part of this community project. We thank everyone who was involved."
"Serving our community is core to our business model," said Las Vegas Coin Laundry owners Leise and Bruce Gilliat. In 2012, when considering new business opportunities, the couple were drawn to the community involvement of owning neighborhood laundromats. "We actively sought out nonprofit organizations to partner with, and since early 2013, we have hosted events and matched donations to offer free laundry to our community. We are researching ways we can offer free laundry events through the year and appreciate the chance to serve."
The laundromats work with coin laundry equipment distributor and store designer, Western State Design (WSD) which provides the finest Dexter laundry equipment. Both companies added funding to extend the hours and customers served. The Laundry Love Project is held twice each year in Las Vegas, with the next event planned for spring 2015.
Scott Harrington, WSD's Area Manager, who visited and spoke with leaders at both events, feels the company has much common ground with Sowell and the project. "Many laundromat customers are families in lower economic areas. We teach our owners the importance of 'Clean, Bright and Safe' for every facility." Harrington and WSD are looking forward to working with Sowell and supporting future Laundry Love Projects around the country.
Five student groups at Grace Point Church, who raised $525, washed clothes for customers at A+ with their parents and mentors. The church has participated in The Laundry Love Project four times in the past two years. Next Generation Pastor, Jeremy Martin, feels the day "gives students a sense of gratitude for what they have. They see that clean clothes bring dignity to broken people." Martin praised the A + owners' participation, "Tim's been phenomenal and so accommodating to the students. I was also happy to meet one of the students I coach in sports who was translating for Spanish-speaking clients."
Pastors Timberly and Andre Gray of The River, A Christian Church, are happy to work on the project for the second time this year. "We are a small church so partnering with Jason's group allows us to come up with enough volunteers and donations to be involved. People were lined up waiting for the Las Vegas Coin Laundry to open. We did 430 loads of laundry!" said Pastor Timberly. "This time we provided gift stockings with toiletries, laundry detergent, candy canes and coloring books," she smiled. "Funds are tight for families – especially at the holidays. It is a blessing that we can serve the community," added Pastor Andre.
Sowell's mission has been simple from the start, "I want people to know they are loved and that people just want to help them because they care. Folks were so anxious and suspicious as they waited in line for this 'free' service when I started six years ago. As they were leaving, I saw relief on their faces, and will always remember one woman who said, 'There really are nice people in the world.'"
xxx
About Current
The Laundry Project is an initiative of Current of Tampa Bay Inc., a Florida nonprofit organization. Current is a faith-based organization started with young adults committed to educating others on current social initiatives and mobilizing them to bring about change. Current works with local churches, community groups and students to organize projects such as the Laundry Love Project and the Hope for Homes Project and leads yearly domestic and international mission trips. To learn more about Current of Tampa Bay: http://www.engagethecurrent.org. For information on the Laundry Love Projects: http://www.laundrybycurrent.org. Contact: Jason Sowell: Jason(at)EngageTheCurrent(dot)org
About Las Vegas Coin Laundry
Las Vegas Coin Laundry owns & operates five laundromats on the east side of the Las Vegas Valley in Las Vegas and Henderson, NV. 702-474-9274
About A+ Laundromat
A+ Laundromat, a newly remodeled, self-service coin laundromat, offering small and large machines, clean sitting areas with flat screen televisions, and vending machines is located one block off of the I-95 freeway, just a short distance from downtown. http://www.apluslaundromatlv.com
About Western State Design
With 37 years' experience as a premier, full-service distributor to the coin-op laundry industry, Western State Design has grown to become one of the largest coin laundry equipment distributors in the world. Western State Design is proud to be a Dexter Authorized Distributor, and has been recognized as the No. 1 Dexter Distributor Worldwide in 2009, 2010, 2011, 2012 and 2013. Dexter Laundry located in Fairfield, Iowa, is an employee owned leading manufacturer of commercial laundry equipment. All equipment is manufactured in Iowa. Visit WSD online at http://www.westernstatedesign.com or call toll free at 1-800-633-7153.