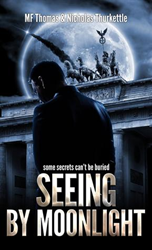 An intriguingly dark thriller, with enough twists and turns to keep the reader turning pages up until the rather surprising conclusion.
Washington, DC (PRWEB) December 30, 2014
Nazi war secrets, Cold War politics, modern space technology and science fiction all come together in co-author M.F. Thomas and Nicholas Thurkettle's hit debut historical thriller SEEING BY MOONLIGHT.
The seeds of the novel's plot are based on a surprising discovery that was the result of Thomas' many visits to World War II historical sites in Germany, where he became aware of a largely forgotten historical fact: The United States and the Soviet Union pillaged nearly all of Nazi Germany's best and brightest minds (including Dr. Werner Van Braun), and their key involvement in their new home countries fledging space programs largely resulted in the start of the space race between the two Cold War rivals.
"Some went willingly, some not so willingly, but without this incredible brain drain on Hitler's top scientific minds being divided up between the U.S. and Russia as the "spoils of war", the space race of the 1960's would almost certainly never have happened", said co-author Thurkettle, a Los Angeles based screenwriter, actor and author. "You can trace a very direct link from today's space programs to the work these gentlemen did under the direction of Hitler; as a matter of fact, the unmanned Antares rocket commissioned by NASA to Orbital Science Corporation that exploded a few months ago bound for the International Space Station was essentially full of 1950's Russian parts and technology, which came directly from those German scientists."
In SEEING BY MOONLIGHT, the story moves between 1999, the turbulent 1960's space race and 1941, on the eve of America's entry into World War II. Nazi Germany has developed a new weapon of unprecedented power, one that will give them ultimate victory over all the nations of the world. But the war turns against them before it is completed, and a conspiracy forms to preserve the weapon and carry on the research.
Kirkus Reviews says SEEING BY MOONLIGHT "…kicks into high gear at the very start…the book's science-fiction element drives the major plot twists, but the most engaging scenes are those in which readers learn the real relationships and histories between the characters."
IndieReader gives SEEING BY MOONLIGHT 4.5 stars, and calls it "an intriguingly dark thriller, with enough twists and turns to keep the reader turning pages up until the rather surprising conclusion."
About the authors: MF Thomas has lived and worked in over 20 countries, and travels extensively internationally every year. When stateside, he makes his home in Memphis TN. Nicholas Thurkettle is a screenwriter, playwright, and author living in Los Angeles, California. He studied Theatre Arts and Music at Bradley University in Peoria, Illinois, and is a proud member of the Writers Guild of America. Information about his other work, including his forthcoming short story collection Stages of Sleep, is available at his website: http://www.nicholasthurkettle.com.
BUY BOOK: Amazon.com
WEBSITE: http://www.seeingbymoonlight.com
To interview co-author Nicholas Thurkettle or to request a reviewer copy of SEEING BY MOONLIGHT please contact Allen Media Strategies' Burke Allen at (703) 589-8960 or via email at burke(at)allenmediastrategies.com.