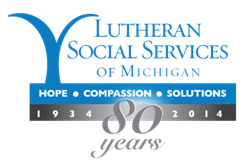 It is a great privilege to come ... to LSSM to help enhance its mission and continuum of services to the most vulnerable among us...
Detroit, Michigan (PRWEB) December 30, 2014
Lutheran Social Services of Michigan (LSSM) announces the appointment of a new CEO, Sam Beals, who will join LSSM in its Detroit offices January 26, 2015.
As well, LSSM has decided to appoint Vickie Thompson-Sandy, who served as Interim CEO during the search, as President.
Beals comes to LSSM from Wedgwood Christian Services in Grand Rapids, where he served as CEO since 2006. Beals also headed Christian Counseling Center from 1993 to 2006, and served in senior leadership positions at D.A. Blodgett – St. John's, both in Grand Rapids. He is a certified fundraising executive and a licensed professional counselor, with a Master of Management degree from Aquinas College, Master of Arts in Clinical Psychology from Wheaton College, is a graduate of Calvin College as well as five certifications in management, ranging from executive leadership, business, social work and fundraising.
"In his career, Sam has demonstrated the ability to identify gaps in service and create new programs, find new and innovative services, and collaborate in partnering with other agencies and community organizations," says Kathleen Lieder, chairman of LSSM's board of directors.
"He is fiscally adept when budget and program issues arise, inclusive with staff when revising programs, and experienced in finding new funding sources," she notes. "We believe his past experience and talents will complement our Administrative Council to make LSSM stronger and more innovative as we face the challenges which lie ahead."
Beals said: "It is a great privilege to come alongside the Board, leadership staff and supporting constituency of LSSM to help enhance its mission and continuum of services to the most vulnerable among us, ranging from infants to senior care. My top priorities include ensuring that the services that have been provided so competently by LSSM continue to operate as efficiently and effectively as possible, while focusing on the development of new service opportunities that enable the agency to meet the most pressing needs of children, families, developmentally disabled adults, and senior citizens."
At the same time, LSSM's Board of Directors has decided to appoint a President, promoting Vickie Thompson-Sandy, who served as Interim CEO during the search and Chief Service Officer previously. During the search process, the committee recognized the strong leadership skills and specific industry knowledge of Thompson-Sandy, especially related to the crucial health care initiatives currently underway at LSSM.
Vickie Thompson-Sandy said: "I am excited to partner with Sam as we move Lutheran Social Services of Michigan forward in innovative ways. He brings a high level of expertise and innovation to our organization."
"There are so many exciting opportunities for us as we serve the whole person. We have a unique expertise of serving people in their own home, whether it's a family at high risk for a disruption, or a senior who needs additional support to stay at home, or an adult with a disability who desires to remain healthy in their natural setting," she notes. "In all of these circumstances, we can apply our skills and knowledge to enter into new partnerships to serve the whole person."
ABOUT LUTHERAN SOCIAL SERVICES OF MICHIGAN
LSSM is one of Michigan's largest and most wide-reaching non-profits, with a Foundation budget of $13.5 million and an organizational budget of $109 million. In the last decade, LSSM's growth is attributed to expansion in senior living services, the addition of continuing care units and affordable housing units and the acquisitions of home care, home health and therapies companies. As well, the organization has been involved in the redesign of child welfare in the state of Michigan. LSSM touches the lives of approximately 20,000 people every year throughout the Lower Peninsula.
Lutheran Social Services of Michigan is dedicated to creating communities of service that meet the needs of people, upholding human dignity, advocating equality and justice. Established in 1934, Lutheran Social Services of Michigan serves the Lower Peninsula of Michigan with more than 80 programs in 44 cities. Lutheran Social Services provides a wide variety of services for children and families, senior adults, refugees and persons with disabilities. Lutheran Social Services of Michigan serves all persons, regardless of race, religion or national origin, as an expression of the love of Christ. For information, visit http://www.lssm.org.
Media Requests:
Your:People LLC
Lynne Golodner
(248) 376-0406
[email protected]