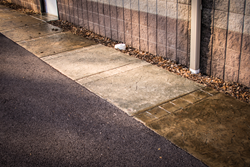 MORRIS, ILLINOIS (PRWEB) December 30, 2014
Heal and Seal Deco is the first waterborne decorative sealer that will actually enhance and wet out the surface like that of its fully solvent based counterparts. The environmentally friendly, low VOC sealer is a fully inorganic formulation containing no acrylic resins to break down in as short as a year. Heal and Seal Deco will provide the characteristics that concrete contractors are used to with regular solvent based sealer without the less desirable traits in today's low VOC sealers.
For decades, water based concrete sealers have been considered second rate to solvent based sealers despite improvements that have been made to them in terms of durability and gloss. The biggest drawbacks were, and, continue to be recoat ability and the ability to enhance(wet out) the concrete surface like their solvent based counterparts. Even the most common solvent based acrylics will darken the surface nicely and can be recoated every couple years with minimal preparation and fuss. Unfortunately solvent based sealers have come under fire the last several years due to their high VOC limits. Most states have enacted strict VOC limits of these products which has resulted in sealer manufacturers being forced to use expensive solvents that meet these requirements. The solvents used to meet the requirements result in sealers that are much more difficult to apply with satisfactory results.
The Heal and Seal line of concrete sealers is brand new technology for the industry. They are the first water based sealer products that withstand the environmental abuse as well or better than their traditional solvent based sealer counterparts. Heal and Seal Deco uses a new proprietary complex silicon technology which will both penetrate the surface and provide a durable and breathable wear layer. This prevents to ability of water and other material to get far below the surface and cause issues. This fused layer will also fill and heal small imperfections in the surface that would eventually lead to both aesthetic and physical imperfections in the surface. These imperfections can lead to color fade, concrete dusting, popouts, scaling, and even cracks. It chemically reacts with the concrete surface to provide excellent protection from water, salt and harsh road maintenance chemicals that routinely damage new concrete within the first 6 months. Unlike all other water base sealers, Heal and Seal can be recoated.
Heal and Seal Cure will be available at select decorative concrete suppliers. Contact Walttools for distribution opportunities.
About Walttools. Walttools is a premier manufacturer of Decorative Concrete Supplies and a leader in the Decorative vertical concrete arena. Their products have been used in over 30 countries. The product lines include Tru Impressions stamps and texture tools, the Tru Tex vertical concrete line, Tru Tint stains, and the ultra-versatile Tru Pac line of specialty ad pacs.