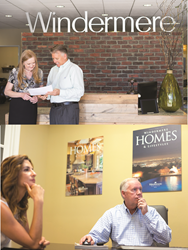 "We expect that in 2015 we will hit a billion in sales and although we are rapidly expanding, we are doing so in the smartest way possible and making the best decisions for the brokerage as a whole."
San Diego, CA (PRWEB) December 31, 2014
When Windermere Homes & Estates opened their doors in July of 2013, co-owners Brian Gooding and Rich Johnson agreed that the main focus of the company would be keeping the culture agent-centered and family oriented. By putting relationships before sales quotas, Gooding and Johnson knew that Windermere Homes & Estates would create an environment that fueled success and innovation.
The momentum the company gained within 18 months of their grand opening has been incredible. Windermere Homes & Estates now has more than 200 agents, five highly active offices, two more offices under construction, and several more locations on the way.
To accommodate for the growth, Gooding, Johnson and CFO, Fred Schuster have started hiring more support staff and have also either opened or started construction on their new office locations including Fallbrook, La Jolla and "The Plaza" in Rancho Bernardo.
According to Johnson, "We expect that in 2015 we will hit a billion in sales and although we are rapidly expanding, we are doing so in the smartest way possible and making the best decisions for the brokerage as a whole."
Windermere is also dedicated to providing top technology tools and resources to their agents. The company has exclusive new partnerships with Zillow and Porch.com. Gooding and Johnson are also focused on expanding the company`s luxury division and have placed a huge emphasis on serving that market.
With the outstanding reputations of Gooding and Johnson, and their upscale high tech offices, the company is attracting top agents through out San Diego. While they are continuing to grow at a fast pace, both Gooding and Johnson maintain their original commitment to put agents first and to always remain available to them to support them in all of their needs as well as that of their clients.
"This tremendous growth is amazing but we aren`t taking our eye off the ball. Rich and I are still in the offices every day and will always put our agents above anything else," said Gooding.
About Windermere Homes & Estates
Windermere Homes & Estates is a San Diego based, upscale real estate brokerage serving progressive and service oriented real estate agents. We believe that a real estate transaction is an experience to understand and enjoy, and training and the highest ethical stands are our mantra! Our commitment to our agents and their clients is to remain a brokerage that is agent centric, powerful and open-minded, yet with the feel of a family run company.