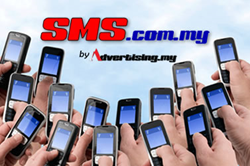 Besides sending of bulk SMS to their target groups, clients can now enjoy all other services like scheduling which will allow them to set a time and date for certain messages to be sent.
Kuala Lumpur, Malaysia (PRWEB) December 31, 2014
For more than 15 years, SMS.com.my has been the pioneering agency that offers a broad and comprehensive range of bulk SMS services for marketing. From short code SMS to 2-way SMS, there is an effective service that can be engaged via SMS.com.my which can help companies to better reach their respective target markets. This is facilitated through a robust SMS gateway which has been tested and proven to be highly reliable all this while.
As part of this expansion exercise, SMS.com.my will continue to provide value-added services that can better position the products, services and brand image of corporate companies. Corporate Bulk SMS is the ideal method for marketing especially for companies seeking impactful and highly effective channels to reach their market segments. The new services will now encompass clients from all sectors and markets.
They can now enjoy fully-customizable services that are catered for their needs. Whether it is to send to a specific target group or to the mass market, clients can enjoy the best bulk SMS rates in the market from as low as RM0.06 sen per message. Clients using the new services can now blast SMS messages to recipients from all telecommunication companies including Maxis, Digi, Celcom, U Mobile and others. Clients who purchase a certain volume during the promotion period will now be able to get free SMS credits, for a limited time only.
Clients will now be able to send out SMSes at the convenience of their own premises. This is because of the interactive and easy-to-use interface which is web-based. By purchasing a certain amount of credits through SMS.com.my, clients are now able to manage their own services including designing of SMS messages and scheduling of events through using a standard web-browser.
Besides sending of bulk SMS to their target groups, clients can now enjoy all other services like scheduling which will allow them to set a time and date for certain messages to be sent. That which makes the SMS.com.my's service so attractive is in the affordability and convenience. By using the new services, corporate companies can now enjoy better ROI or Return-on-Investment.
With the low cost of sending SMS today, coupled with the accessibility to the system anytime and from anywhere, corporate businesses have better control for their marketing expenditure regardless of whether they are targeting Digi, Maxis, Celcom or U Mobile users. On top of that, businesses can make use of the quick delivery of the messages.
This makes the bulk SMS service an extremely effective media for marketing especially for corporations to reach a large potential group of customers. The services offered through SMS.com.my will not only cover standard delivery as there will be other services that include one-way, 2-Way and 3-Way SMS. Prior to sending the bulk SMS, clients will now be offered consultation and advice services by SMS.com.my on the designing of the messages. This will ensure that each message sent will have the highest possibility of response.
As the premier SMS service provider, SMS.com.my will be working towards building long-term business relationships with its clients with new business opportunities. This is where SMS.com.my will be offering a new partnership program which will allow businesses to enjoy an additional income stream by becoming resellers through this robust SMS gateway arrangement.
Companies can become bulk SMS resellers for SMS.com.my from a low start-up fee and they can start earning more income by offering the same set of services for their respective customers. This will in turn provide them with more expansion possibilities in terms of offering bulk SMS as part of their product or services because API documents will be provided for those who sign up with SMS.com.my.