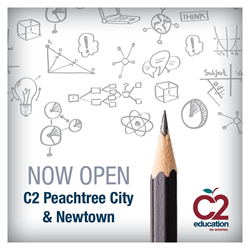 Helping students and families within the community that I love is a wonderful opportunity."
Atlanta, GA (PRWEB) January 06, 2015
C2 Education (C2) the country's premier network of subject tutoring, SAT ®, ACT®, PSAT® preparation and educational support centers is proud to announce the opening of new centers in Peachtree City, Georgia and Newtown, Pennsylvania.
The over 9,300 families that reside in Peachtree City and Newtown will now have the convenience of their own C2 tutoring center. Both new centers are located near popular retail shops and restaurants and will service all area schools.
C2 Education offers customized tutoring services for students from kindergarten to high school. The company also specializes in SAT, ACT and PSAT test prep, and are one of the first to offer test preparation programs for the new, harder SAT, which will replace the current SAT in 2016.
An important part of the C2 mission includes establishing strong community bonds. When asked how C2 staff feels about that mission, Jillian Shiflett, Program Director happily explained "As a long term resident of Peachtree City, I am so excited to be a part of the excellent educational resources that C2 is bringing to my community. Helping students and families within the community that I love is a wonderful opportunity."
For more information about C2 Education and to learn how their proprietary tutoring programs may benefit your student visit the company's website at http://www.c2educate.com.
About C2 Education
C2 Education was founded in 1997 by David Kim and Jim Narangajavana, two Harvard students offering private tutoring programs from their dorm room. In 2000, C2 opened their first location in Maryland. As of 2014, the company has grown to over 150 centers nationwide, and will double the number of centers in the next three years. C2 serves over 12,000 students and their families each week. C2 is one of the premier SAT/ACT test prep and subject tutoring companies in the U.S., providing expertise with trained and often multilingual tutoring staff as well as customized curriculum. C2 was the first test prep provider to write and publish student workbooks for the new SAT.
Media Contact:
Hillary Zody
Phone: 678-352-7105/770-298-5033
###