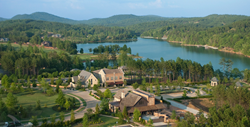 Top Cities to Explore in 2015 - Upstate South Carolina
Greenville, South Carolina (PRWEB) December 31, 2014
What a great way to kick of 2015 in Western South Carolina! Greenville is named #7 on the Top 10 list of Lonely Planet's Best in Travel 2015. Annually, the experts of travel at "Lonely Planet", evaluate cities within the United States and choose the top 10 travel destinations, those meriting a visit. This year No. 7 on the list chosen is Greenville, South Carolina. This incredible revitalized city has a wealth of amazing attractions and anyone looking for one of the top places to live in South Carolina should put Greenville near The Reserve at the top of the list.
Nestled in the Blue Ridge Mountains, this Upcountry region once the home of mills, textile factories and warehouses along the Reedy River, has become a hub of chic boutiques, craft beer pubs and world class restaurants can be found on the revamped Main Street that features over 60 restaurants. Besides fine dining and spectacular scenery, this region is also rich in culture and outdoor activities to satisfy even the most discerning home shoppers and tourists. It's no wonder Greenville is BOOMING.
In the heart of Greenville, accented by a cascading waterfall, is a 10 block stretch of Main Street where many treasures can be found. There are many waterfalls in Upstate SC, the picturesque Falls Park on the Reedy is a 32-acre park embracing the banks of the Reedy River with the 60-foot Reedy Falls splashing through downtown. In the 1800's, its shores were a center of industry and today inviting trails and spectacular gardens are the draw, with shops, restaurants, hotels and office buildings just a few steps away. Adventurers can enjoy the splendor of Reedy Falls from the infamous Liberty Bridge, a 345 ft-long pedestrian suspension bridge just downstream. Enjoying gourmet meals and boutique shopping add "big city" appeal to this captive environment.
Amongst the twinkling lights embracing the tree tops, public arts displays surround the area. While strolling through this quaint town, admirers can enjoy the "Mice on Main" display which actually doubles as a scavenger hunt as 9 bronzed mice are hidden within the area to keep sharp-eyed visitors entertained. Also found here is "Thoughts on a Walk", where a whimsical collection of humorous quotes are found embedded on the sidewalk. Noted as one of the "fastest growing" cities in SC, this historic region also features countless outdoor activities that enable residents and visitors the chance to intertwine with the beautiful elements that make this area so unique near The Reserve at Lake Keowee.
Culturally speaking, this town is packed with multiple museums, music and festivals. This Western South Carolina city has a wealth of culture and offers many sophisticated venues for Baby Boomers seeking the ultimate in entertainment. Here are some of the activities found in one of the top places to live in South Carolina:
The Greenville Zoo – Rated as one of the best tourist attractions in South Carolina, this 14-acre zoo features exotic wildlife from all over the world.
Heritage Green Campus – Features the Bob Jones University Museum and Gallery, Greenville County Museum of Art, Greenville Little Theatre, The Children's Museum of the Upstate and Upcountry History Museum.
The Peace Center for the Performing Arts – This venue features a 2,100 seat concert hall, a 400 seat theatre and an amphitheater and offers a variety of performances annually including top Broadway shows.
Carolina Ballet Theatre – Founded in 1972, offers a variety of dance performances ranging from classical ballet to contemporary art styles and promotes the expansion of expressive dance styles in Greenville.
Centre Stage – Established in 1983, this 285 seat regional theater walking distance from downtown, offers a wide selection of entertainment options year round. From music to comedy this establishment also hosts art exhibits, chamber music concerts, film screenings, galas and unique local performances.
Greenville Symphony Orchestra – Considered one of the finest symphony orchestras in the Southeast, created by volunteer musicians in 1948, now boasts an internationally recognized music director and conductor and offers symphonic performances for locals who appreciate this sophisticated music style.
Greenville Chorale – Originally created as "Rotary Civic Chorale" in 1961 with only 45 singers, now has over 200 "larks" with a mission to provide a vibrant symphonic community chorus. They perform throughout the year at The Peace Center, Furman University and area churches.
The Warehouse Theatre – In the Historic West End of Greenville, this theater features intense and unpredictable performances of live artistic expression. This converted textile warehouse features 15 productions annually and prides on providing an eccentric mix of talent from local professionals to artists from around the country.
For Baby Boomers who thrive on "fresh air" and the natural aesthetics, this city has a multitude of parks, hiking trails and even a bike rental program to keep exercise enthusiasts motivated and to explore the scenery in this spectacular city and near the waterfalls in Upstate SC. The Greenville B-Cycle is a bike share program with 35 bikes that members can check out and return at various locations throughout the city. With drop-off points through the region, bikers can enjoy the sites as they peddle through the historic town. Peddlers can follow the Swamp Rabbit trail that parallels the Reedy River or for more adventurous day trips, there are 6 rugged state parks nearby easily accessed from the Cherokee Foothills Scenic Highway. Hikers and residents living at The Reserve can enjoy amazing view of the area from atop Table Rock Mountain and Ceasars Head State Park as well as experience the Annual Hawk Watch from September to November. Here are some of the great parks located near Greenville:
Caesars Head Overlook, Caesars Head State Park- The overlook at Caesars Head State Park has long been known as one of the best locations for viewing the Blue Ridge escarpment and Piedmont with the mountains of North Carolina and Georgia as a backdrop. Here hikers will also find the 400-foot cascading Raven Cliff Falls where adventurers can cross the suspension bridge to view the falls from above. This region is especially popular in the Fall as trees are displaying radiant hues of the season.
Jones Gap State Park – Another great park found north of Greenville, "Jones Gap" is located in the valley with Middle Saluda River running through it, the Blue Ridge also creates a majestic backdrop for those seeking some amazing hiking trails and trailside camping to enjoy all the beauty nature has to offer here.
Kings Mountain State Park – A variety of trails are available in this park located near Blacksburg, SC including equestrian trails. There is also a Living History Farm and many campsites available for overnight stay. Hikers and those choosing to explore the rolling hills by horseback will find spectacular views year round.
After a visit to Greenville, those seeking to call this hip city "home" won't want to miss considering the The Reserve at Lake Keowe e in Sunset, South Carolina before purchasing property. Located just 35 minutes away from Greenville, this family-oriented gated community offers beautiful home sites at Lake Keowee (nicknamed the Garden of Eden) ranging in price from the low $100k's to lake view lots in the $300k's. Own one of the bright and airy home designs available while enjoying the incredible amenities this community offers:
THE RESERVE AT LAKE KEOWEE AMENITIES
24 Hour Manned Gated Entrance
18 Hole Championship Golf Course designed by Jack Nicklaus
20,000 Square Foot Golf Clubhouse with dining
Lakefront Pool Complex & Grill
Resort-style Outdoor Swimming Pool
Four Lighted Har-Tru Tennis Courts
Fitness Center
5 1/2 Miles Walking Trails
Community Parks and Dog Park
Great Lawn
200 Boat Slips and Marina
Village Market
Founders Hall
Legacy Program (Since 2010, parents, grandparents, children and grandchildren of property owners can enjoy the benefits of membership with The Reserve' Legacy Program)
With over 300 miles of shoreline and 1,400 acres of protected green space, it is no wonder this development is selling quickly. Retirees looking for quality "Upcountry" living with the sophistication of Greenville nearby are choosing The Reserve as their "piece of paradise". In addition to the natural elements found here, boating enthusiasts can enjoy the pristine Lake Keowee (named one of the Best Boating Lakes by Links Magazine) as this gated community offers a private 200-slip marina with 19 piers and a full service marina for property owners. Large mouth and spotted bass fishing have also made Lake Keowee one of the top locations for anglers in South Carolina. Kayaking is also popular in the exploration of the coves and islands tucked away here. Active seniors can also stay fit and enjoy the outdoors with 5 ½ miles of hiking trails found within the neighborhood and near the waterfalls in Upstate SC.
Social events abound at The Reserve where The Great Lawn features rolling greens down to the lake where outdoor concerts and community events take place annually. The 20,000-square foot Orchard House is the clubhouse where folks can enjoy dinner while overlooking the Croquet Lawn. There is also The Village Market where groceries, unique gifts and fresh deli can be found. For a true neighborhood with a country club feel, The Reserve at Lake Keowee fits the bill.
With all the fabulous things to do in Greenville nearby, Real Estate Scorecard finds The Reserve to be one of the top places to live in South Carolina and they are not alone. Property owners scored the community a 95 out of 100!
To schedule a tour, call The Reserve direct at 877.922.5253.
About Real Estate Scorecard:
Real Estate Scorecard writes unbiased real estate reviews providing in-depth information about popular gated communities in Florida, Georgia, North Carolina, South Carolina and Tennessee, all in an effort to help people discover where to retire in the Southeast.
Website: http://realestatescorecard.com