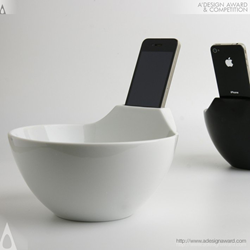 Como, Italy (PRWEB) December 31, 2014
A' Design Award and Competition is pleased to announce that the Ramen Bowl design "Anti-Loneliness" by Daisuke Nagatomo and Minnie Jan has been awarded with a notable Golden A' Design Award in Furniture, Decorative Items and Homeware Design Category.
Insights on Anti-Loneliness Ramen Bowl
Daisuke Nagatomo, the lead designer of the awarded work Anti-Loneliness said "Anti-loneliness Ramen bowl addresses the social phenomena of addiction to the use of high-tech handheld devices such as smart phones. The uniquely sculptured form is the result of double layered ceramic for creating the concave cavity for holding phone device. As the society relies more and more on online and digital media, I have observed that people try to connect online even during their mealtime, looking or browsing the social media with their smart phones. Anti-loneliness Ramen bowl is the hybrid-design of phone dock with noodle bowl for addressing those issues. " Learn more and download high-resolution photos at: https://competition.adesignaward.com/design.php?ID=30761
Design Team for Anti-Loneliness Ramen Bowl
Anti-Loneliness Ramen Bowl was imagined by Daisuke Nagatomo and Minnie Jan.
The Golden A' Design Award
The Golden A' Homeware Design Award is a prestigious award given to top 3% percentile designs that has exhibited an exemplary level of sublimity in design. Entries to the A' Homeware Design Award and Competition are peer reviewed and anonymously judged by an expert jury panel of design scholars, professionals and editors. Laureates of the A' Homeware Design Awards are granted a series of PR and Publicity tools to help celebrate the success of winning the accolades such as invitation to join the World Design Consortium. Award winning designers are invited to attend the black-tie award ceremony in Como Lake / Italy to retrieve their almanac of best designs, design excellence certificates and exclusive 3d printed metal award trophies. Entries to the A' Design Award & Competition are ongoing and results are announced every year on April 15, during world design days.
About the A' Design Awards
A' Design Awards were established in 2009 in order to create a global understanding and awareness for good design practices and principles. The primary aim of the competition is to push designers, architects, brands and product manufacturers to create superior products and projects that benefit society. Learn more about the A' Design Awards at http://www.designaward.com