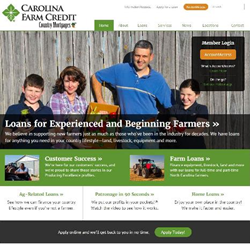 The new website's functionality and clean design allow visitors to easily access timely information.
Statesville, NC (PRWEB) December 30, 2014
Carolina Farm Credit recently launched a new website at carolinafarmcredit.com. The new design features user-friendly navigation, quick access to individual branch pages, and a clean new look. Over 70 photos from the association's photo contests are included throughout the site.
The website's content management system allows for timely updates and will ensure that information is fresh and up to date. The new site also serves as a resource center for customers and farmers with links to local ag news and events, articles written by ag experts, financial reports, Carolina Farm Credit's quarterly Leader newsletter, and press releases. There is also a page dedicated to the cooperative's patronage program featuring a video that explains the program in 90 seconds along with a patronage calculator that will estimate a patronage refund based on past average returns and loan amount. Visitors to the site can easily apply for a loan online or complete a request for more information.
"The new website's functionality and clean design allows visitors to easily access timely information," said Maggie Hamm, Chief Marketing Officer of Carolina Farm Credit. "We're particularly excited about the new feature that gives each branch the ability to post local news and information for their customers."
The site was designed by the creative services team at Ag First Farm Credit Bank in Columbia, S.C.
Carolina Farm Credit is a stockholder-owned cooperative providing financing to full and part-time farmers and agricultural-related businesses and also provides financing for the construction and purchase of homes in 54 counties through 36 branch offices. Other financial services available are credit life insurance, crop insurance, appraisal services, leasing programs and financial planning.
Carolina Farm Credit serves over 9,200 members with loans outstanding totaling more than $1.4 billion. The association's territory covers the western half of North Carolina, with branch offices located in Albemarle, Asheboro, Asheville, Boone, Browns Summit, Burnsville, Carthage, Concord, Conover, Ellerbe, Graham, Hendersonville, Hillsborough, Jefferson, Lenoir, Lexington, Lincolnton, Marshall, Mocksville, Monroe, Murphy, Pilot Mountain, Roxboro, Rural Hall, Salisbury, Shelby, Siler City, Sparta, Spindale, Statesville, Taylorsville, Wadesboro, Waynesville, Wilkesboro, Yadkinville, and Yanceyville.
Carolina Farm Credit was recognized as a 2013 Best Employer in North Carolina. The list of the Best Employers in North Carolina was created by Business North Carolina, the Society for Human Resource Management (SHRM) – NC State Council and Best Companies Group.
Directors for Carolina Farm Credit are Mark A. Bray, Chairman, Lawsonville; L. Kim Starnes, Vice-Chairman, Salisbury; John M. Barnard, Statesville; E. Bernard Beck, Seagrove; W. Rex Bell, Statesville; David M. Coltrane, Pleasant Garden; Susie J. Gambill, Sparta; Joseph A. Lail, Shelby; Clark M. Newlin, Haw River; Thomas E. Porter, Jr., Concord; Tony L. Ragan, Sanford; D. Kaleb Rathbone, Waynesville; Lewis E. Smith, Lincolnton; Vickie N. Smitherman, East Bend; Dr. Alton Thompson, Summerfield.