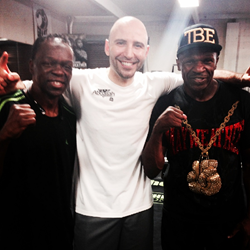 In order for me to marry my dreams, I have to break up with fear and cheat on doubt...
Lockport, NY (PRWEB) December 31, 2014
Recently, Lockport's undefeated, number two world ranked kickboxer and professional fight promoter, Amer Abdallah, took the biggest step in his promotional career and opened an office in the fight capital of the world, Las Vegas.
"The time for us to take this monumental step is now," Abdallah stated. "In order for me to marry my dreams, I have to break up with fear and cheat on doubt. It's my time."
With a world title fight looming in his near future, Abdallah will also set up his own Team Abdallah Training Camp in Las Vegas. There has not been an official announcement on where or when the world title fight will take place, but a November date has been mentioned.
Abdallah has been fighting and promoting shows in the Lock City since 1998. As the youngest promoter in kickboxing history, Abdallah resurrected boxing in Lockport after a near 20-year absence. Featuring Team Abdallah boxers Allen Gerhardt and Brian Burkhardt, Abdallah held his first, historic and sold-out event, at the Best Western on Transit Road.
"It was the first show I had ever promoted and was as nervous about the event running smooth as I was my two guys fighting in front of our hometown," Abdallah said. "The overwhelming support we received reinforced my dreams of making Lockport a fight capital of the Northeastern region of the United States."
Abdallah outgrew the 300-capacity ballroom at the hotel and struck a deal with the Lockport Mall to host events at the vacant Montgomery Ward department store. For almost three years, Lockport fans packed the untenanted store and enjoyed wonderful boxing and kickboxing events, featuring local Team Abdallah boxers Corey "The Story" Webster, Mike "Machine Gun" Ford, The Batt brothers Ryan and Adam, "Stone Cold" Cody Butler, Nate "Bulldog" Hopkins, the Burkhardt brothers Adam and Brian, Allen Gerhardt, Troy Morris, Steve Intihar, Billy Centner and several others.
"We had an empire of champions," Abdallah stated.
Once again, Abdallah's promotion company grew and expanded to the Kenan Arena in 2001, where they promoted the first major professional fight, featuring longtime Lockportian and Abdallah's kickboxing coach Desmond Price against Rochester's Frank "The Goodfella" D'Ambra.
"It was a homecoming fight for our hometown hero, Desmond," said Abdallah. "Nobody that had ever crossed paths with Dez ever thought he'd even get hit let alone predict what happened that night."
At just 58 seconds into the opening round, D'Ambra unleashed a shot that Price was renowned for, the spinning back fist, which landed flush on the temple of the Lockport native and left him unconscious in the center of the ring.
"It was like living in a surreal moment where your mind can't comprehend what your eyes are witnessing," Abdallah recalls. "Out of all of the amazing moments that I've witnessed over the years, that ranks with the most memorable."
Abdallah immediately challenged D'Ambra to a fight between him and the newly-crowned N.Y. State Light Heavyweight Champion to seek redemption. The pair fought twice in exciting, toe-to-toe action, leaving the crowd on their feet at the last bell of each fight. Abdallah was victorious in both outings, winning each by unanimous decision.
Abdallah continued to promote shows out of the Kenan Arena while expanding to other areas of the Northeast with his shows. Aside from just hosting the events, he also competed and climbed the ranks to his current no. two world ranking.
"If I would have just solely focused on my own fighting career, I would have won a world title years ago," said Abdallah. "But my heart was also into promoting and building local champions."
Something had to go, and Abdallah gave up training fighters and solely focused on his promotions company and own professional career.
For 16 years, Abdallah's Lace Up Promotions has brought world-class talent and attention to Lockport. Celebrities such as Mike Tyson, Angel Manfredy, Jeff Mayweather, Dominik Hasek, and several Buffalo Bills and Sabres players have attended the fights at the Lock City. Fighters such as Sam Stout, Kevin VanNostrand, Mark Hominick, Alexis Davis, Chris Hordecki, Luay Ashkar, Ed Burris, Muzzamal Nawaz, Jim Andrello, Verquan Kimbrough, Monte Clay and many more have all fought under Abdallah's promotional banner. Lace Up Promotions currently promotes shows in Lockport, Rochester, Syracuse, Connecticut and Rhode Island.
Lace Up Promotions will begin staffing the Las Vegas-based Lace Up Promotions office in early January. With 6-8 shows planned in 2015, Abdallah will have his hands full with events this year. He is also in the final stages of announcing a multi-event deal with Mike Tyson & the Mike Tyson Experience, as well as a new "Mayweather Training Camp" Seminar across the country. For more information on his events, fans can visit http://www.laceuppromotions.com or follow them on Facebook.
"No matter where we go, what we do and who we deal with, I never forget to remind myself that Lockport will always be home," said Abdallah.
For more information on Lace Up Promotions and their upcoming events, "LIKE" them on Facebook or visit them at http://www.laceuppromotions.com.