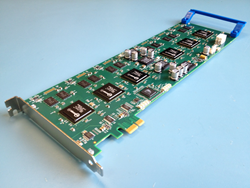 Supports up to 48 H.264 output streams for use in adaptive bitrate applications
Slinger, WI (PRWEB) December 31, 2014
VideoPropulsion® (OTC:VPTV) announces it is now offering a Linux Software Development Kit (SDK) and drivers for its XC3 PCIe high-density MPEG transcoder module. Designed for use by system integrators and OEMs, the new offering allows third party developers to create their own integrated MPEG transcoding solutions for delivering over-the-top (OTT) and other digital television applications.
The XC3 Transcoder hardware module is a PCIe x1 interface card available with 2, 4, or 6 transcoder chips – with each chip capable of transcoding up to 4 MPEG streams. The XC3 is a multi-format transcoder capable of delivering up to 24 transcoded broadcast streams, or up to 48 H.264 streams for use in adaptive bitrate applications like DASH and HLS. With support for transrating and trascaling of HD bitrates and resolutions down to smaller formats, the XC3 supports MPEG2 to H.264, H.264 to MPEG2 or H.264 to H.264 – making it the most versatile transcoder available.
The new Linux SDK and drivers provide low-level programmatic access to the underlying transcoder hardware to enable OEMs and System Integrators to quickly prototype and build their own high-density transcoding solutions.
Now in its 40th year of continuous operation, VideoPropulsion also offers its own turnkey transcoder appliance models in the company's FloodGate® FG-5000 Series Transcoder. Optional ASI I/O, QAM outputs, and AES-128 encryption is available, the FG-5000 can support several flavors including: Pro:Idiom®, SamsungLYNK®, Verimatrix®, VSecure®, and other custom proprietary encryptions.
"Building on the success of our own FG-5000 Series high-density MPEG transcoders, we have now unleashed this same capability to third party system integrators and OEMs," said Carl Pick, Founder/Chairman & Chief Scientist at VideoPropulsion. "Today's job of digital television signal processing is MPEG transcoding, and we're excited to empower others to deliver unique solutions requiring large-scale transcoding solutions in a plethora of vertical markets."
The XC3 with Linux SDK and FG-5000 Series Trancoder products are available directly from VideoPropulsion.
About VideoPropulsion
Now in it's 40th year, VideoPropulsion has been a world leader in hardware and software for high performance, low cost per stream, digital content manipulation, and has established a reputation for providing unique HDTV, VOD, and IPTV products. The Company offers revolutionary FloodGate satellite and CATV transcryption appliances as well as OEM computer modules for a variety of applications, including streaming, multiplexing, demultiplexing, modulation, demodulation, transcoding, encryption, and splicing MPEG formatted data.
For further information, contact:
Kathy Cain
Vice President of Sales
VideoPropulsion
255 Info Highway
Slinger, WI 53086
(262) 644-1000 x107
sales(at)videopropulsion(dot)com
http://www.videopropulsion.com
VideoPropulsion and FloodGate are registered trademarks of VideoPropulsion Interactive Television, Inc.