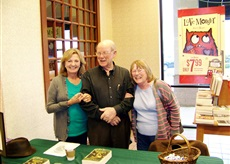 AuthorsBookBeat.com is where wannabe, new and experienced authors meet to share their book news, engage readers, and interact with media professionals looking for stories or potential authors.
Friendswood,TX (PRWEB) January 30, 2015
Riding the $52 billion self-publishing boom, AuthorsBookBeat.com announces launch of a new website hub where authors can promote their books to a global audience of readers, media , and other writers.
At ABB™ authors can write and post press releases, articles, email blasts, book reviews, and news about book signing events. They can take advantage of a wide range of free and paid opportunities to promote their print, audio, and digital books to thousands of readers, including media outlets within the publishing, entertainment, library, broadcast, and cable industries.
While authors can register and post their profiles for free, with a paid subscription of $49.95/year, members can make one post per day in any of 10 promotional categories. ABB™ Options include media contact, book announcements, book trailers, interviews, events, press releases, email distribution, book reviews and advertising. Authors can receive help in creating any combination of services. There is an introductory offer of 50% discount to all authors who register by March 31, 2015.
Additionally, each member's postings will automatically be distributed to all social media, including Twitter, Facebook, LinkedIn and Google+.
AuthorsBookBeat.com is in beta stage and welcomes author feedback on ways to make the site more even more useful. Comments can be sent to bruce(at)totalrecallpress(dot)com.
At the website authors will find a global audience of readers seeking new knowledge and adventures, media journalists looking for stories, book editors questing for new authors and trending topics, and other writers searching for collegial advice and support. The site also welcomes authors, readers, reviewers, publishers, editors, librarians, bloggers, and journalists to comment on any book.
AuthorsBookBeat.com is a subsidiary of TotalRecall Publications, Inc., based in Houston, TX. TotalRecall TotalRecall Publications Inc.publishes publishes more than 200 non-fiction and fiction titles in a variety of subjects, including financial exam study guides, library science texts, self-help books, mystery/thrillers, and adventure books for children and teens. All are distributed worldwide through book retailers and wholesalers and via eBook databases such as ebrary, EBSCO, and Books24x7.com. http://www.totalrecallpress.com
Website Developers for ABB™ are Mamoon Mushtaque and Santosh Khatri, who may be contacted at mamoonmushtaque(at)gmail(dot)com or santosh.khatri09(at)gmail(dot)com