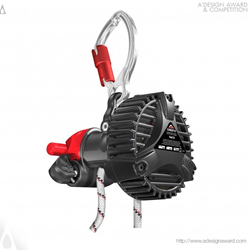 Como, Italy (PRWEB) December 31, 2014
A' Design Award and Competition is pleased to announce that the evacuation equipment design "Direct Drive" wins a Golden A' Design Award in Engineering and Technical Design Category.
More on Direct Drive
Sebastian Roos, the project leader of the winning work Direct Drive said "The unique properties of "ResQ Direct Drive" are that it is specially designed for heavy loads and high heights. The main strength is the patented new technologies along with the technical specifications, the markets first true device developed for operating up to 280kg from up to 600 meter. With all new and patented features to the market like direct drive configuration, manually engageable hoisting mechanism with self-locking worm gear, the ResQ DD represents innovation with the user in focus. " Learn more about this design: https://competition.adesignaward.com/design.php?ID=30950
Project Members for Direct Drive
Direct Drive was designed by Bo Sander, Patrik Malterling, Ove Larson, Sebastian Roos and Linus Larsson.
The Golden A' Design Award
The Golden A' Design Award is a prestigious award given to top 3% percentile designs that has exhibited an exemplary level of perfection in design. Entries are voted on evaluation criteria such as functionality, ergonomics, engineering, presentation, innovation, usability, fun details,and technology by an expert jury panel of design professionals, editors and scholars. Laureates of the A' Design Award & Competition are given a series of public relations and marketing services such as an exclusive interview at Design Interviews website to promote the winners. Awarded designers are invited to join the gala-night and award ceremony in Italy to collect their yearbooks, award trophies and certificates, and have their works exhibited in multiple countries. Laureates are also included in World Design Rankings as well as Designer Rankings. Entries to the A' Design Awards is ongoing and results are announced each year on April 15 during World Design Days.
About A' Design Award and Competition
The A' Design Award and Competition was established to recognize, promote and highlight excellent qualifications of best designs, design concepts and design oriented products worldwide. A' Design Award and Competition is organized and awarded annually and internationally in multiple categories to reach a wide, design-oriented audience. The ultimate aim of the A' Design Accolades to create a global awareness for good design practices and principles, as well as to push designers worldwide to create superior products and projects that benefit society. To learn more about the A' Design Awards please visit: http://www.whatisadesignaward.com