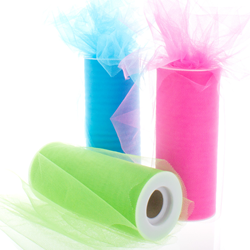 Fort Scott, KS (PRWEB) January 05, 2015
Online hair bow supply retailer HairBow Center is now offering shoppers a new line of custom-made tulle, which is currently available in 23 appealing colors, 25- or 100-yard spools, and 3-inch or 6-inch widths. Tulle is an incredibly versatile material that can be used to make all kinds of decorations and accessories, including bows, floral arrangements, tutus, and other garments, such as wedding dresses; HairBow Center's customers will find that they can use the new tulle for a similarly wide range of projects, from fashioning eye-catching hair bows and hair flowers to creating delicate accessories for special occasions, such as weddings, baby showers, bridal showers, and holidays. HairBow Center's medium-density tulle, which the company manufactures and spools independently, strikes a balance between softness and strength; the company's tulle is just stiff enough to hold the desired shape during crafting, but it is also soft and comfortable to work with or wear.
HairBow Center has introduced this new line of material in light of tulle's popularity in the crafting world and its many uses in the wedding industry. Compared to grosgrain ribbon, which is the next most popular product that HairBow Center sells, tulle is the subject of five to six times more online searches. Introducing this new product line should help HairBow Center attract new customers and complement its existing satin ribbon line, which features ribbons in five sizes and various bold colors. The tulle line offers customers various color choices to suit any project, from classic tones, such as silver and light pink, to distinctive modern shades, such as neon green and turquoise; HairBow Center also plans to increase the number of tulle colors that it offers in the future. Customers can browse the available selection of tulle or learn more about the new product by visiting http://www.hairbowcenter.com/tulle.html.
About HairBow Center
HairBow Center has provided online shoppers with an extensive selection of colorful ribbons and other hair bow accessories since 2008, when founder Kristi Banwart created the company and started designing ribbons based on her knowledge of interior, graphic, and architectural design. HairBow Center built a reputation for creating unique products and focusing on customer service, and by 2010, the company had expanded from operating out of one bedroom to using a 6,500 square foot facility; today, HairBow Center offers a full selection of high-quality hair bow supplies, including embellishments, hardware, tulle, and various ribbons, from grosgrain to satin. To learn more about HairBow Center and its products, visit http://www.hairbowcenter.com.