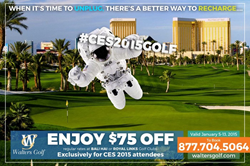 ...golf still is one of the best ways to impress clients, especially for those that might be looking to expand their business while at CES or Startup Debut. In fact, some of Vegas' biggest deals have been made by business elites while playing our courses
Las Vegas, NV (PRWEB) December 30, 2014
Walters Golf invites Consumer Electronics Show (CES) 2015 attendees to enjoy a pre-show event for startups and market innovators at its world-class course on the Las Vegas Strip. Bali Hai Golf Club's Cili Restaurant & Bar will once again serve as the setting for the largest-ever Startup Debut, the hailed event that kicks off the four-day exposition early, on Sunday, January 4, 2015 from 7:00 P.M. to 10:00 P.M. For show attendees, Walters Golf will also extend a $75 discount off regularly priced rounds from January 5 through January 13 at both of its courses, including nearby Royal Links Golf Club.
Startup Debut is a highly-regarded event geared toward startups and market innovators looking to build awareness of their new products among top media, analysts, bloggers and investors. Not surprisingly, golf and technology proved to be a popular pair at last year's Startup Debut and CES in Las Vegas, as the week featured player-friendly innovations like golf glove swing sensors and a fully-loaded golf cart with an $8,000 price tag. Aside from serving as an excellent proving ground for golf-based tech with its convenient location on the Strip, Bali Hai Golf Club stole the show in 2014 with the opportunity to have Las Vegas' first bitcoin ATM on-site during the week of CES.
While CES 2014 drew more than 160,000 tech enthusiasts and product innovators from over 140 countries around the globe, Walters Golf aims to provide 2015 attendees with an escape – or a great place to do business – away from the two million square feet of exhibit space. "CES is one of the biggest expositions Las Vegas sees all year, and we're honored to once again host Startup Debut as a part of the week's events," said Josh Hill, Vice President of Marketing at Walters Golf. "A round at Bali Hai or Royal Links Golf Club is the perfect way to unplug from all the technology, recharge and relax amidst the excitement of CES. And golf still is one of the best ways to impress clients, especially for those that might be looking to expand their business while at CES or Startup Debut. In fact, some of Vegas' biggest deals have been made by business elites while playing our courses."
Despite golf's ancient roots, the Las Vegas-based company is privy to the game's modern technology. Attendees are encouraged to visit all of Walters Golf's responsive websites and download the Walters Golf smartphone app (available at no charge on iTunes and Google Play), which features cutting-edge 3D course flyover views and GPS-based yardages for all areas of Bali Hai and Royal Links Golf Clubs. Walters Golf's two courses offer the best technology in golf equipment for out-of-town players, too. Full sets of the latest line of Callaway Golf equipment, as well as FootJoy golf shoes, are available for CES attendees to rent at a low rate.
About Walters Golf:
Walters Golf, a division of The Walters Group, has become one of the fastest-growing and most widely respected golf companies in the country. From its first venture into the private country club market in 1995 to today's ownership and operation of top-quality, daily fee golf courses, Walters Golf continues their commitment to quality and profitability while offering customers excellent value.
Led by businessman and avid golfer Bill Walters, Walters Golf is known in the national golf industry for developing first-class golf facilities. According to Executive Golfer, Walters is "Nevada's leading golf entrepreneur" who "recognized the need for visitor and corporate friendly golf facilities and packages, and seized on the opportunity, investing millions in [two] magnificent properties."
In Las Vegas, the company owns and operates Royal Links Golf Club and Bali Hai Golf Club in addition to Las Vegas Golf Getaways, Las Vegas Preferred Tee Times and Cili Restaurant & Bar. For additional information, visit http://www.waltersgolf.com, follow on Twitter and Instagram @WaltersGolf and interact on Facebook at facebook.com/WaltersGolf.