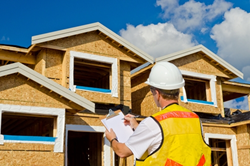 existing-home sales report reflects a larger part of the market and is a stronger measure of the industry's health because it shows less volatility.
Chicago, IL (PRWEB) December 30, 2014
New home construction may have fallen in November, but The Federal Savings Bank thinks people should still prepare for a strong housing market in 2015. The lender has strong positive expectations for America's housing market in 2015 for the following reasons.
Single-family home authorizations fell to 639,000 units in November, a 1.2 percent decline from October's final figure, according to a joint release from the U.S. Department of Housing and Urban Development and Department of Commerce. Privately owned building permits fell in November as well to a number 5.2 percent below October's figure.
Single-family home completions hit 596,000 last month, and privately owned home completions fell to 863,000.
Single-family housing starts in November were 5.4 percent under October's numbers, and privately owned housing starts in November declined 1.6 percent from the prior month.
Not a complete surprise
While many hoped for stronger housing market activity in November, new home sales figures have shown a slower pace over the past few months. Understanding the slower sales rate helps ease the blow of weaker activity last month. After hitting a revised rate of 455,000 units in September, the market saw fewer homes sold in October and November, according to HUD and the Commerce Department. This shows the market is improving albeit at a slower pace than many desire.
Existing-home sales
During November, existing-home sales also fell but remained above November 2013 levels. Last month's drop in sales was a surprise to many following months of improvements, and National Association of Realtors Chief Economist Lawrence Yun believes the month is a one-off and not the beginning of a housing market decline.
The overall improvement in existing-home sales in 2014 is proof of the housing market's recovery and a better indicator of a recovery than new-home sales. New-home sales activity is about one-tenth of all industry activity. Lenders like The Federal Savings Bank find the NAR's existing-home sales report reflects a larger part of the market and is a stronger measure of the industry's health because it shows less volatility.
NAHB's response to November market
Last month's figures don't reflect the optimism U.S. builders still feel, according to December 23rd report from the National Association of Home Builders.
"Though home sales have edged slightly lower, builders are reporting confidence in the market and are increasing their inventory in anticipation of future business," said NAHB Chairman Kevin Kelly in a news release regarding new-home sales.
New-home inventory rose to 213,000 units in November, according to the HUD and Commerce Department release. This is a 5.8-month supply.
The latest NAHB/Wells Fargo Housing Market Index showed builder confidence hit 57 in December. The index measures how builders feel about current single-family home sales, sales expectations over the next six months and prospective home buyer traffic. Any figure above 50 indicates more builders believe conditions are favorable than bad, which means at a reading of 57, builders currently believe housing market conditions are good and will continue to improve.
Predictions for 2015
Despite recent declines in existing- and new-home sales, Realtor.com Chief Economist Jonathan Smoke predicted 16 percent growth in housing starts next year. He also stated builders will shift their focus from multifamily home construction to more single-family homes.
First-time home buyers interested in purchasing a newly built house should contact the Federal Savings Bank, a veteran owned bank, to learn about low mortgage rates and the pre-approval process.