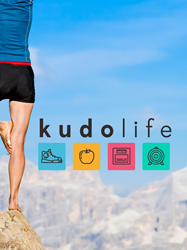 This update breaks new ground for calorie and fitness tracking in your pocket through the following innovations
VANCOUVER BC (PRWEB) January 02, 2015
Today, health and fitness-app Kudolife launched an exciting update that enables users to track their exact calorie/macronutrient consumption and their calorie exertion, all within a single mobile app. This update breaks new ground for calorie and fitness tracking in your pocket through the following innovations:

Fitness Tracking
M7 Integration
Withings Scale Integration
Smart Red Flag Alerts for Macronutrients
Kudolife now offers the most sophisticated way of tracking physical activity and showing just how many calories are burnt. Whether it's walking or running, all thats required is to slip the iPhone in your pocket and watch the app seamlessly convert your steps and strides into calories burned.
Distinguishing itself from the traditional fitness app, Kudolife shows how the results of diet (calories in) and the results of exercise (calories out) are balancing and working together to create a healthier lifestyle. Through location services, Kudolife can detect and differentiate between walking, running, and driving – which means that any activity recorded is highly accurate and wholly representative of fitness efforts.
If that's not enough, Kudolife also integrates with Withings Scale technology, which automatically logs and updates changes in weight. Furthermore, with the incorporation of smart red flag alerts, Kudolife's "Calories-In" system has been revamped, making eating right easier than ever. Users are now notified if their macronutrient intake exceeds the amount tailored to their unique profile, assisting healthy and fit Kudo-ers in maintaining their fitness goals.
"Since our successful launch last year, we have constantly strived not only to improve the interface for a better user experience, but also to add industry-leading functions and features that help Kudo-ers achieve tangible results," said Zeeshan Hayat, Co-Founder and CEO of KudolifeApp Inc.. "Pursuing an innovative and inventive approach to healthy living, we have created a single tool that can measure all aspects of fitness – both calories-in and calories-out – making it easy for our users to live a healthier and happier life."
Kudolife is already making strides, securing reward partnerships with top wellness coaches across the US and Canada. In order to make a change in your life, download the new and improved version of Kudolife, available for free on the iOS App Store: http://bit.ly/1jBFfFf
Connect With Kudolife
Facebook: https://www.facebook.com/kudolife
Twitter: https://twitter.com/KudolifeApp
App Screen Shots: https://www.dropbox.com/sh/1n4xbtg83vwylsj/BhjckAyxdc
About Kudolife
Kudolife is a Vancouver based start-up that presents a simpler way for people to achieve a healthier lifestyle. Kudolife is operated by two entrepreneurs heavily involved in the US health space – a retired professional cyclist turned business/wellness coach, and a programmer and start-up junkie with several funded companies in Silicon Valley. Kudolife has completed beta testing in Vancouver and is excited to successfully launch its fitness tracking technology.