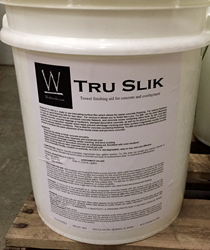 MORRIS, ILLINOIS (PRWEB) December 30, 2014
Walttools is announcing the availability of Tru Slik. It is their new and highly effective trowel aid for use on both concrete and decorative overlayments. Walttools Tru Slik is a ready to use lubricating surface film which allows for easier concrete finishing. Veteran finishers will find that Tru Slik allows for great concrete finishing with far less labor. Novice finishers will find Tru Slik allows for a professional finish. Tru Slik is compatible with both air entrained and non-air entrained concrete. Additionally, Tru Slik will work with concrete mixes containing silica fume or fly ash as well as latex modified concrete, concrete toppings or hardeners.
The proprietary formula will also allow Tru Slik to help serve as an evaporation retarder proven to help reduce plastic shrinkage cracking, spider cracking, and wind crusting usually brought about by adverse weather conditions. This is ideal when working with decorative overlayment. Tru Slik can also be sprayed onto concrete chutes to facilitate the easier placement of low slump mixes including environmentally friendly pervious concrete.
Tru Slik will be available thru select decorative concrete supply distributors.
About Walttools. Walttools is a premier manufacturer of Decorative Concrete Supplies and a leader in the Decorative vertical concrete arena. Their products have been used in over 30 countries. The product lines include Tru Impressions stamps and texture tools, the Tru Tex vertical concrete line, Tru Tint stains, and the ultra-versatile Tru Pac line of specialty ad pacs.