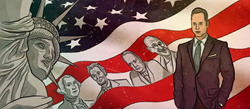 Jersey City, NJ (PRWEB) December 30, 2014
Former FBI Agent Jason T. Brown was once again featured in New York Magazine's New York Area's Top Rated Lawyers Edition. This year he was listed for his work with Class Actions, Mass Torts, Commercial Litigation and Labor & Employment Issues. According to the publication Mr. Brown was featured for having "achieved the peer reviewed rating of AV Preeminent by Martindale-Hubbell, the company that has long set the standard for lawyer ratings. The AV Preeminent rating is a significant accomplishment and demonstrates that a lawyer's peers have ranked him…at the highest level or professional excellence."
Mr. Brown is a tireless fighter who had a commendable 2014 litigation record highlighted by the culmination of over half a decade of work in a mass tort that settled for one hundred million dollars ($100,000,000.00) involving women who allegedly sustained pulmonary embolisms (PE), deep vein thrombosis (DVT), sagittal venous thrombosis (SVT), strokes and death from their birth control. (In re: Nuvaring, MDL 1964, Eastern District of Missouri). He also settled millions of dollars of claims for women allegedly sustaining similar injuries by Yaz, Yasmin, Ocella, Gianvi and Beyaz. The cases were consolidated in the YAZ MDL #2100.
"It is an honor to receive this recognition," Mr. Brown stated. "After I left the Bureau I wanted to fight for people's rights and it's a privilege to have represented so many people in their fight for justice. " In addition to the major recoveries he obtained in the mass tort realm, Mr. Brown also had a compelling year of recoveries in class actions for their wage disputes against their employer. "If an employer makes someone work off the clock, or doesn't pay them overtime, or pays them improperly, we step in and level the playing field, sometimes obtaining maximum relief including double damages with the attorney fees paid separately," according to Attorney Brown. His firm, JTB Law Group, LLC, has obtained millions in settlements and judgments in 2014 for workers who have been paid improperly.
The firm has attracted some talented staff in 2014 as well including some ivy league lawyers and financial analyst as well as individuals with diverse Fortune 500 experience. Mr. Brown credits the firm success to hard work and an exceptional litigation team.
Looking forward to 2015 the firm will continue to strive to protect people's rights and file overtime and FLSA lawsuits for people who have been shorted wages. In the mass tort realm, the firm indicated for the new year it will continue taking cases on behalf of individuals who have allegedly defective metal on metal hips from Stryker and Depuy, alleged injuries from Xarelto and Benicar, trans-vaginal mesh related issues, individuals who allegedly were diagnosed with bladder cancer from the use of Actos, as well as any other catastrophic injury nationwide.
"With all the honors, accolades and results 2014 will be a tough year to top, but with methodical and disciplined litigation and hard work, we'll try," Jason T. Brown added.
The JTB Law Group, LLC is located in Jersey City, New Jersey, but handles cases nationwide in conjunction with local counsel. Mr. Brown indicates that past success does not guarantee future results and to the extent that anything in this article is considered self-serving, it should be considered attorney advertising