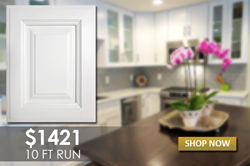 Try CabinetDIY's Design 1,2,3 and request their new Florence White cabinets
Anaheim, CA (PRWEB) December 31, 2014
Over the last few years, RTA (Ready To Assembled) cabinets have grown in popularity because it is typically sold right out of the box and ready to be assembled. Originally designed to meet the needs of today's cash conscious consumers who are looking for more affordable home improvement solutions, CabinetDYI takes that process to an entirely new level offering their Design 1, 2, 3 service.
Designing a kitchen using RTA kitchen cabinets has never been easier and more cost effective, thanks to CabinetDIY's Design 1, 2, 3 service. This design service includes the added benefit of working with an experienced design consultant. There are several reasons to choose ready to assemble cabinets over traditionally crafted custom cabinets, and other than the convenience of being able to have a professionally designed kitchen, RTA kitchen cabinets also cost 20 to 30 percent less than traditional cabinets.
With CabinetDIY announcing their Design 1, 2, 3 service, its quick and easy design process consists of three easy steps. The first step requires the consumer to measure and sketch the layout of their current kitchen space. They also need to take five or more digital photos of their kitchen. These will be submitted to CabinetDIY's professional in-house designers along with any ideas for the design and style that the they have envisioned for their kitchen. The next step will prompt them to choose several photos from a variety of kitchen cabinet samples that closely represents their dream kitchen. Then, the consumer will be asked to specify any appliances that will be used in detail so the designers can create a design that will perfectly fit in with the overall appeal of their kitchen. Last but certainly not least, the consumer will be asked to include their contact information before their design request is submitted to CabinetDIY's experienced designers, who will then contact them within 24 hours with their options.
Once the costumer has finalized their order, the cabinets will be carefully and professionally assembled, tested, then packaged by CabinetDIY's highly skilled employees at one of their service facilities in the United States. Their end goal is for their customers to easily install their cabinets after it has been shipped and delivered. All of CabinetDIY's RTA kitchen cabinets also come with an option to be shipped assembled or non-assembled.
CabinetDIY 's cabinet styles are available in a variety of colors and sizes, and made with the highest quality materials, including maple, cherry, oak, shaker, espresso, white cabinets and many more. They also provide their customer's with a complimentary 3D design of their kitchen to give them a clear idea of what their new kitchen cabinet layout will look like. Unlimited revisions are offered as well, until the customer is completely satisfied with the design. For customer reassurance, CabinetDIY will provide small versions of real wood color samples upon request (up to 4 color samples) and full sample doors can be purchased for $35 each.
Some of the biggest benefits that have led to the growing popularity of RTA kitchen cabinets is the fact that just about everything can be carried out online; From concept to design and to the shipment of the final products. All without leaving home and dealing with crowded home improvement stores or expensive home remodeling companies.
Expect a fast turn around time with CabinetDIY, and free nationwide shipping is also offered on purchases over $1,800. International shipping options are available outside of the United States.
About CabinetDIY
CabinetDIY was established in 2004 by a group of professional cabinet makers and interior designers who had a mutual vision and passion that came to fruition. Their business model is based on helping their customers design and assemble their dream home kitchen design projects. Today, they are known as the online RTA cabinet website where anyone can find the most suitable cabinet designs and styles to suit their tastes and at a price that won't break the bank.
For more information about CabinetDIY's Design 1, 2, 3 Service visit http://www.cabinetdiy.com/style123/measureit
To request your free sample today : http://www.cabinetdiy.com/product/sample