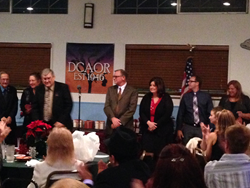 Yucca Valley, CA (PRWEB) December 31, 2014
At the recent Association of Realtor's Installation Dinner, three Realtors from the Coldwell Banker Roadrunner Realty agency received awards for their work on behalf of the association and the community. Roadrunner owner Jeff Poland was one of the recipients, along with Realtors Phillip Brown and Theresa Niles. According to Poland, "We strive every day not only to represent our clients to the best of our ability, but also to give back to our industry and it is humbling to be recognized for our service."
Jeff Poland was recognized for taking time out of his busy schedule to offer support to the association. Members also praised Jeff for his ability to address issues from multiple perspectives and offer solutions that quell dissension and bring different factions together for a positive result.
Theresa Niles was recognized for her generosity and giving nature. Niles is known as the person who will step up and offer help no matter the situation, and this has been very valuable to the organization over the years. Members were quick to mention how Niles steps up in any situation from stepping in to organize charity events to selling tickets for an association fundraiser.
Finally, Philip Brown was recognized for his efforts at client service long after the transaction is complete. In fact, members named Brown and "exemplary human being" and for providing a living example to what client service is all about. In addition to the awards, both Poland and Niles were reinstalled as Directors of the Association.
Coldwell Banker Roadrunner Realty is one of the leading agencies in the Yucca Valley and their Realtors are expert in helping clients find the perfect property throughout the Yucca Valley, including the communities of 29 Palms, Joshua Tree, the Morongo Valley and Pioneertown. The Realtors at the agency as consistently recognized for their client service.
To learn more visit the Coldwell Banker Roadrunner Realty website at http://www.cbroadrunner.com/rentals/ or call 888.365.8880 to speak with an agent.
###