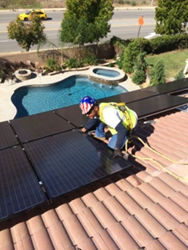 we are thrilled to have the exposure, especially at an all-American venue like NFL football in the mid-west
(PRWEB) December 31, 2014
The intention of the broadcast spot was to demonstrate the relationship between the highly skilled men and women separating from the United States military and the urgent need for talented labor within the renewable energy industries. Solar PV has specifically been demanding of employees, as the industry experiences double-digit growth year over year.
"We are very grateful to Grazie Media for their generous donation to TVA," said Kelly Smith, Vice-President of The Veteran Asset. "As we are a young, yet committed non-profit, we are thrilled to have the exposure, especially at an all-American venue like NFL football in the mid-west!"
The Veteran Asset's mission addresses the following conditions:

The U.S. military is downsizing
Skilled men and women are entering the job market
The solar industry is experiencing exponential growth
Veterans' skill sets are solar-symbiotic and in high demand
"TVA connects the dots on these compelling facts," Smith continued, "by recruiting, training and placing our skilled and dedicated veterans into meaningful careers within the renewable energy sector. Our veteran graduates are quick to be hired, as employers want what they have. This process is transforming lives and, at the same time, making the solar industry better."
Veterans are invited to be a part of the solar revolution through The Veteran Asset's education and placement services. Employers are urged to hire vets. Philanthropic folks are encouraged to donate. Learn more about TVA by visiting their website.
About The Veteran Asset (TVA)
Tax-exempt nonprofit 501(c)(3)organization, whose mission is to recruit, train and place U.S. military veterans into meaningful careers within the renewable energy sector.