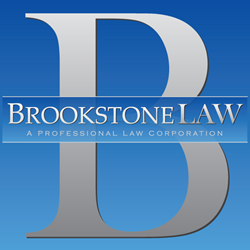 This is a major case breakthrough, not just for Brookstone Law, but for homeowners who want to move forward in their cases against major US banks and mortgage lenders.
Costa Mesa, CA (PRWEB) December 31, 2014
A California state appeals court on 12/11/2014 reversed a lower court decision to dismiss 964 plaintiffs who joined Brookstone Law's mass action lawsuit accusing Bank of America NA, Countrywide Financial Corp. and Countrywide Home Loans of misrepresenting the terms of loans before the housing bubble burst. More details regarding Christina I. Petersen v. Bank of America, Case # G048387 can be viewed on the court's document, currently filed in the Court of Appeal of the State of California Fourth Appellate District Division Three.
"This is a major case breakthrough, not just for Brookstone Law, but for homeowners who want to move forward in their cases against major US banks and mortgage lenders," said Brookstone Law firm's Managing Attorney, Vito Torchia, Jr, who made the announcement.
"The Court of Appeal, in following the spirit of the law, as written by the California legislature and interpreted by the courts, made the absolute correct decision. To uphold the lower courts decision would go against California jurisprudence. This decision will allow the plaintiffs to have their voices heard as a group, not leaving any plaintiffs behind, regardless of social or economic backgrounds, and having what they always wanted, getting their day in court in front of a jury of their peers," said Brookstone Law's Managing Attorney, Vito Torchia, Jr.
In addition, the Complaint alleges a cause of action for unfair competition in violation of California's unfair competition law, Business and Professions Code section 17200 et seq., based on the allegations that Defendants engaged in a massive conspiracy and fraudulent scheme to place borrowers into loans for which they were unsuited, to securitize and sell those loans on the secondary market, and to artificially inflate real estate prices in California.
"I would like to take this opportunity to congratulate the Plaintiffs and Brookstone Law regarding the recent appeal decision. The decision was not only a major win for the Plaintiffs and Brookstone Law, It was a major win for homeowners around the nation once the average person considers how the recent appeal decision paved the way for homeowners to mass together into a mass joinder and hold the banks accountable. A mass joinder ultimately holding the banks accountable for the potentially irregular, fraudulent and simply illegal mortgage banking practices responsible for the worst economic disaster since the Great Depression. Welcome home Wright et al vs. Bank of America Plaintiffs," said John Wright, Brookstone Law client & homeowner involved in this case.
The appeals court said that remanding the 3,000-plus page complaint would give the trial court the power to force plaintiffs' counsel "to whip the third amended complaint's desultory and scattered allegations against Countrywide into a tightly structured set of manageable subclaims. Our decision does not require it to commence jury selection at Anaheim Stadium."
The opinion added: "If we're going to send Moby Dick back to the trial court, we should at least provide a harpoon or two. [...] While the irony of requiring the case to be divided into tranches has not escaped us, we are confident the trial court can handle the task."
About Brookstone Law:
Based in Costa Mesa, California, Brookstone Law is a law firm comprised of attorneys with experience and success in civil litigation, criminal defense, business, corporate, employment, entertainment & media, art & museum, intellectual property and real estate law. The firm employs highly trained specialists, paralegals, paraprofessionals and administrative staff dedicated to serving their clients. For information, call (800) 946-8655 or visit http://www.brookstonelaw.com.
For further information about the case, visit:
http://www.law360.com/articles/604054/calif-court-lets-800-borrowers-rejoin-countrywide-suit
http://www.morelaw.com/verdicts/case.asp?n=G048387&s=CA&d=74616