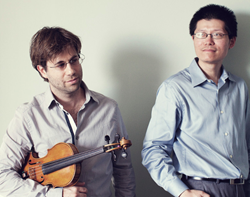 (PRWEB) December 31, 2014
South Florida's premier modern jazz organization is excited to present Tomás Cotik and Tao Linon Saturday, January 10, 2015, 8:00 p.m.. This concert will take place at the Rose and Alfred Miniaci Performing Arts Center on the Nova Southeastern University campus, 3100 Ray Ferrero, Jr. Blvd, Davie 33314. Tickets are $40 ($15 for students) and can be purchased from the Broward Center box office by calling Ticketmaster at 800.745.8000; or online at http://southfloridajazz.org.
A special SFJ members-only pre-concert "Conversation with Gary Burton" will take place at 7:15 p.m. Mr. Burton is one of only two jazz musicians to have performed and recorded with Astor Piazzolla (the other being the late Gerry Mulligan). Mr. Burton is a seven-time Grammy-awarded vibraphonist and noted educator.
TANGO NUEVO: The Music of Astor Piazzolla featuring Tomás Cotik and Tao Lin
Saturday, January 10, 2015 – 8:00 p.m.
Violinist Tomás Cotik lived the first 18 years of his life in Buenos Aires where he was aware of, but not enthralled with tango, the national dance of Argentina. Instead, he was a serious classical music student, who went on to gain Bachelor and Master in Music degrees from Freiburg (Germany) University, then an Artist Diploma from the Glenn Gould School in Toronto, Canada, before earning a Doctor of Music degree from the University of Miami. Along the way, he wrote a thesis on his countryman, Astor Piazzolla, the daring tango innovator. Within his principal preoccupation with the violin and piano works of Franz Schubert and his numerous recording and teaching obligations, Mr. Cotik teams again with his frequent collaborator, pianist Tao Lin, to explore Piazzolla's iconoclastic New Tango or Tango Nuevo, a fusion of tango with other unexpected musical components, primarily classical, jazz and some American popular forms.
Tao Lin* was born into a musical family with both parents on the faculty of the Shanghai Conservatory of Music. His career as a professional pianist seemed predestined as he began piano lessons at four, then entered the conservatory and began performing publicly at eight. Mr. Lin has flourished as a soloist with orchestras from Moscow to Miami; as a recitalist in major venues around the world; and as a devoted chamber musician. He is much in demand as an educator and was awarded "Outstanding International Pedagogue" by the Shanghai University School of Music. His open mind allows him to enjoy jazz, opera, and selected pop music without a touch of snobbery. His intricate interplay with Tomás Cotik demonstrates a hand-in-glove empathic relationship.
*Tao Lin is a Steinway artist.
ASTOR PIAZZOLLA (1921-1992)
Tango is a national dance that originated in the bordellos and rough areas of Buenos Aires in the late 1800s with its roots in Cuban and African music, and practiced in the "milongas" or dance venues throughout Argentina – not too dissimilar to the origins of jazz in America. The tango first was played by guitar and flute and later piano and bandoneón, a concertina-type instrument, were added. The music was vivacious, dramatic, and unquestionably provocative. Tango evolved over the next century and when Piazzolla, the highly trained composer pianist, and bandoneón master, gravitated to it, he reinvented it by melding tango with jazz, klezmer, and classical elements and expanding the instrumentation. His personal rhythmic concept was nearly as radical as the dissonance and counterpoint, which made his Tango Nuevo art music, thus not readily accepted by traditionalists. But he never lost touch with its despairing yet emotional essence. The 1970s and '80s were the period of his greatest accomplishments, composing for and performing with major artists from the classical and jazz world. His iconic "Libertango" written in 1974, is one of Piazzolla's pure concert tangos: compact, dynamic, and unforgiving.
This is an Official Broward 100 Event
Funding for this organization is provided in part by the Broward County Board of County Commissioners as recommended by the Broward Cultural Council.