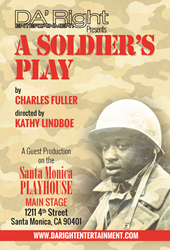 A Soldier's Play helped launch the careers of Hollywood powerhouses Denzel Washington and Samuel L.Jackson
Los Angeles, CA (PRWEB) January 06, 2015
DA' Right Entertainment presents a limited engagement run of the classic, Pulitzer Prize-winning drama, "A Soldiers Play"* by Charles Fuller. February 26, 2015 through March 1, 2015.
Set in Louisiana during the 1940s, "A Soldier's Play" is a murder mystery that takes place on a racially segregated military base. With writing that examines the causes of oppression facing African Americans and the obstacles to their advancement, writer Charles Fuller manages to pose provocative questions about social issues and stereotypes that are still relevant today.
Produced by the Negro Ensemble Company, the original production opened on November 20, 1981 and ran for 468 performances. It won, in addition to the Pulitzer; the Outer Critics Circle Award for Best Off-Broadway Play, the New York Drama Critics' Circle Award for Best American Play, and the Obie Award for Distinguished Ensemble Performance.
"A Soldier's Play" helped launch the careers of Hollywood powerhouses Denzel Washington and Samuel L.Jackson, we are hoping to achieve some of the same success for this talented ensemble. Our cast features: actor, entrepreneur, executive vegan chef and founder of ieatgrass.com, Ayinde Howell in the lead role of Captain Davenport, along with David Haley, David Lombard, Kyle Jones, Al Spencer, Bradford Barnes, Justin Key, Hari Williams, Blake Young-Fountain, Peter Monro, Brant Rotnem, and John Pleasant.
Kathy Lindboe our director is also a writer and producer. Some of her recent work includes feature films NONAMES starring James Badge Dale, Gillian Jacobs, and Barry Corbin, and MISSED CONNECTIONS starring Mickey Sumner and Jon Abrahams. She has directed several stage productions in Minneapolis and New York, most recently working with the NYU Tisch Grad acting students and The Diversity Players of Harlem. In 2012, she co-founded the company HomeSweet Films where she has several projects in development. She is a former member of The Greenpoint Writers Group in Brooklyn and a current and original member of the film group JFS (Just F***ing Shoot) in Los Angeles. She is the digital content producer and editor at Miramax.
Performances are February 26th at 8PM, February 27th at 8PM, February 28th at 3PM with a second show at 8PM, and March 1st with a show at 3PM. Ticket prices are $25.00 for general admission but there are other discounted tickets available online. Tickets are available at darightentertainment.com or toll free at (866) 811- 4111 for credit card purchases. For group rates or more information please call DA'Right Entertainment at (212) 726 – 2389.
Santa Monica Playhouse Main Stage is located at 1211 4th Street Santa Monica, CA 90401
DA' Right Entertainment founded by Dwight Ali Williams seeks to bring joy, foster hope, and evoke emotions as it endeavors to provide World Changing Entertainment.
*produced by special arrangement with Samuel French, Inc.