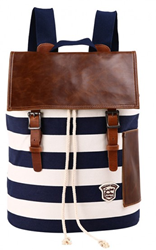 Not only the alien professor (Korean series: My Love from the Star), but ordinary people also love backpacks.
(PRWEB) January 04, 2015
Many people living in big cities yearn for a casual life, so they tend to look for a casual and sporty bag. However, some young ladies find it difficult to find a backpack that is both fashionable and functional. Fecbek.com, a China-based comprehensive online store, has just released its new collection of backpacks.
Last spring, Chanel launched a backpack with colorful graffiti. The canvas one was priced at $3,400. For many people,the price is beyond what they can afford. Luckily, Fecbek's accessory collection offers the latest backpacks at very low prices that many young women can afford.
"We help fashionable ladies to own the latest pattern trend without spending a fortune on pricey designer brands. Female customers can buy any accessory they like, with 60% off at our website," the sales manager says.
Not only the alien professor (Korean series: My love from the star), but ordinary people also love backpacks. Why are backpacks so popular? Usually, because they are light, convenient and functional. Besides, backpacks can make people look young and fashionable.
At Fecbek, backpacks can fall into 3 main types, according to different functions. The first is a computer backpack, which can be used to store computers. Moreover, some personal articles can also be put into these backpacks. So, many computer backpacks are also used to travel.
Sports backpacks are also well received by young people, approximately 20 years of age. This kind of backpack is often brightly-colored and made of canvas. The latest designs, high quality and low price appeal powerfully to the young.
Another popular kind of backpack at Fecbek is called the fashionable backpack. Most of these backpacks are made of polyurethane and are petite. They are designed for ladies to wear casually. "They make my hands free, and I feel so relaxed," one customer says. Thus, many women choose to go outside with fashionable backpacks instead of handbags.
Backpacks can be good for people because they cling to people's backs and can reduce stress. "The market response to backpacks is very good on our site. Many ladies, however, have narrow shoulders and should stray away from bigger sizes," the sales manager advises.
A good backpack is just like a loyal partner who will not leave the owner's side. Fecbek's backpack collection lets customers to choose a healthy lifestyle - and be a free and untrammeled backpacker. To find out more, please visit http://www.fecbek.com/bags.
About Feckbek.com
Feecbek.com is a leading online retail and wholesale store specializing in selling clothing, shoes, bags, wedding and occasion dresses, cosplay, costumes and beauty products. With a wide selection of products at a low price, the company has been universally recognized for honesty, high efficiency and thoughtful services; it has built a long-term relationship with many customers.
For more information, please visit http://www.fecbek.com/.