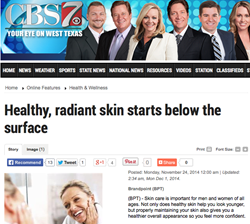 RENU 28 has been featured in major national media outlets.
Boise, Idaho (PRWEB) December 31, 2014
Trish notes that increased media attention will provide impetus for continued significant growth of the ASEA business in 2015. Media outreach initiatives have allowed ASEA, manufacturer of the world's first and only redox signaling technology, to build relationships with various media outlets to spread ASEA's company message in a very effective way. The information released to the media during these campaigns encourages brand awareness, educates the public, and provides third-party validation from well-known publications.
Recently, ASEA released an article titled, "Healthy, radiant skin starts below the surface," which appears in major publications such as LA Times, San Francisco Chronicle, Houston Chronicle, Milwaukee Journal Sentinel, and CBS 7 in Texas.
To date, the release has 1,066 online placements to a potential audience of over 41 million.
Below you can find an example link of the media placements:
Trish Schwenkler, president and co-owner of Our Global Home Business Boise, ID, has been an expert in the wellness field for over 25 years. Trish is an Independent Associate of ASEA, LLC.
ASEA, LLC is the world's one and only manufacturer of Redox Signaling molecule products and is located in Salt Lake City, UT.
For more information visit Our Global Home Business.