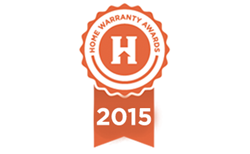 Winners of the home warranty awards 2015 are selected after a stringent evaluation process that scrutinizes their customer services
Michigan (PRWEB) January 05, 2015
America's number one home warranty review and rating website has announced the winners of its 2015 Annual Home Warranty Awards, and upholding tradition, three companies across three different categories have earned awards. The consumer research website has been recognizing the best companies in the home service contract industry each year since 2012.
Awards were given out in the following three categories: Top Rated, Best In Service and Best Regional. Three finalists were chosen from each of the categories, based on their performance in 2014.
This year, American Home Shield earned the "Top Rated" award, The Home Service Club won the "Best in Service" award and Landmark Home Warranty claimed the "Best Regional Company" award.
Winners of the home warranty awards 2015 are selected after a stringent evaluation process
that scrutinizes their customer services, repair services and above all, consumer reviews, among other factors. Claims approval rates, online and self service choices and various other customer satisfaction metrics were taken into consideration.
Receiving the Top Rated award, Mark Barry, president of American Home Shield praised the work of his team. "Our employees and contractors focus on delivering the best possible service, coverage and experience for our customers. We respond to three million service requests a year, and as the market leader, it means a lot to be recognized again for providing outstanding, dependable service. We appreciate our customers who continue to give us such great feedback."
"The Home Service Club family is extremely humbled and grateful to receive the Best in Service Award. We have always strived to not only be an industry leader in home warranty service, but to raise the industry standards in general. We have our customers, contractors, and amazingly hard working staff, to thank for this truly amazing distinction," said Dmitiry Krupin, Executive Director of Customer Service of The Home Service Club, which received the Best in Service award.
Katherine Robinson, Director of Marketing at Landmark Home Warranty, which received the Best Regional Company award said, "We are honored to receive the award from our industry's top review website. Since the award is based, in large part, on the feedback of our customers, we especially want to thank them for sharing their experiences with us and homewarrantyreviews.com. We don't take this award for granted, and will continue to strive every day to deliver remarkable service to our customers and partners."
The independent rating website HomeWarrantyReviews.com stated that this year too saw a drastic improvement in the services of companies across the nation. The leadership behind the website believes that introducing the awards may have helped bring about a positive effect on the industry as it has pushed the companies to put forth their best. Several companies were seen improving their online reputation through the site's Complaint Resolution Program and providing impeccable services to their customers.
The Complaint Resolution Program is a feature that allows customers and company representatives to communicate with each other and resolve their issues within 30 days.
About HomeWarrantyReviews.com
HomeWarrantyReviews.com is an independent review and rating website that is dedicated to serving the home warranty industry and to bridging the gaps between home service contract companies and their customers. Unlike other popular review and rating websites, which provide comparison for services across a host of categories, HomeWarrantyReviews.com serves only the home warranty industry. This focused approach makes it a one-stop site for all home warranty needs.
HomeWarrantyReviews.com hosts comparison tools, informational guides and news articles about home warranties. The website also hosts profiles of home warranty companies across the country with their plans and pricing details. The site was founded in 2006 and has over 18,000 reviews from customers across the country and lists a little over 90 companies.