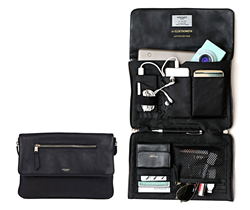 LAS VEGAS (PRWEB) December 31, 2014
Knomo, the London-based brand of bags and cases that organize and protect digital accessories, will be introducing new powered products at the 2015 International Consumer Electronics Show. Products on display at the booth include:
Knomad 2.0: The latest addition to the Knomad collection, the stylish Knomad 2.0 is the ultimate mobile organizer. Everything you need for the day is organized in one place, in a handsome canvas folio with leather trim that can be carried on its own, or slipped into a larger bag. It has multiple pockets to hold and protect a tablet, smart phone and emergency battery pack, and neatly organizes all other business essentials, such as earphones, cables, stylus, and even business and credit cards. The new 2.0 version incorporates a tablet stand for viewing movies or presentations and is available with or without a 4000mAh battery.
Elektronista Digital Clutch: Perfect for day or night, the Elektronista digital clutch bag offers style and function to women on the go. The bag features an integrated 3000mAh battery with micro-USB charging cable to keep devices charged, and a sleek and compact design made from full-grain leather with gold hardware. With zippers on either side of the clutch, the Elektronista easily transforms from a stylish handbag into a flat organizer, allowing access to interior pockets and compartments to keep all products organized. The Elektronista's innovative and exclusive design comes from Copenhagen-based technology blogger, radio broadcaster and TV host Christiane Vejlø. (Tweet Christiane -attending CES2015- @christianevejlo)
Bond Charge Purse: Sleek and lightweight, the Bond Smartphone Charge Purse stores a smartphone and other essentials while on the go. With a dedicated padded section, smartphones are protected as they are charging via the integrated 3000mAh battery. Recharging the included battery is easy – simply plug the USB end of the cable into a laptop or a USB plug. Constructed of lightly tumbled full-grain leather, the Bond Smartphone Charge Purse can be carried independently as a clutch via the wristlet strap or used as a purse inside a larger bag.
Bathurst Backpack: Backpacks are an essential this season, and the new Bathurst is a must-have for techaholics and fashionistas alike. Part of the new Paddington Collection, the Bathurst features super-stylish large quilting that not only looks great, but adds extra protection for all belongings inside. Holding up to a 15" laptop, the Bathurst features organizer pockets and compartments to keep a pen, business cards, charging battery, tablet, notebook, etc. within easy reach. The exterior offers a front pocket for storing a smartphone and keys close at hand. Ergonomic, adjustable shoulder straps allow the Bathurst to sit comfortably on a shoulder, while the design is incredibly lightweight: great for travel and everyday use.
Newbury Briefcase: The Newbury Briefcase is a modern take on a classic design. Made from Knomo's timeless Brompton leather, the Newbury is unstructured with zipper detailing and a front organizer panel made for essentials like a battery charger, keys, smartphone, etc. The Newbury Briefcase can be carried multiple ways – by its padded short handle or over the shoulder using the detachable, adjustable strap. The interior padded section of the Newbury holds up a 15" laptop and features multiple pockets for organizing/protecting a tablet and other work essentials. Plus, the interior features a brightly colored contrast lining, making it easy to find any belongings.
An added feature of all of these products is the unique 'MyKnomo ID' code, which is found in every Knomo. After registering this code at knomo.com, if a lost product is found, it can be returned to its owner.
Knomo is exhibiting January 6-9, 2015 at LVCC, North Hall - Booth 6624. For media appointments, please contact Beth Gard at bethg(at)lotus823(dot)com.
For additional information about Knomo, please visit http://www.knomobags.com/usa/, https://www.facebook.com/knomoLondon, and https://twitter.com/knomo.
About Knomo
Knomo is a fast growing, London-based brand that designs and markets stylish bags and cases that organize and protect digital accessories designed for "Life on the Go". The name Knomo is derived from two words: Knowledge and Mobility.
Knomo was founded in 2004 by a couple of friends who were disillusioned with their traditional career paths in the corporate world. They started Knomo with the goal of building a company that was flexible, spontaneous and exciting, and would allow them to create products that people loved and that made a difference in their lives. A decade after launching at Selfridges in London with a handful of bags, Knomo is now selling multiple collections in over 35 countries and is known for its high quality, thoughtfully designed products, which combine style and functionality.
Knomo USA was set up as a joint venture with Knomo London in 2007 and is run by two former Tumi executives, Charlie Clifford, Tumi's founder and longtime CEO, and Larry Lein, who served as Executive Vice President. Clifford and Lein are also shareholders in Knomo London.