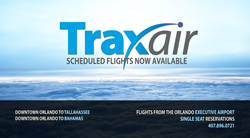 "This marks a huge milestone for air travel in Central Florida."- Bryan Brewer, Chairman and Owner of Trax Air
Orlando, Fla. (PRWEB) January 02, 2015
Trax Air today announced scheduled service launching in 2015 to Tallahassee and the Bahamas from Orlando Executive Airport in Downtown Orlando, Fla.
Trax Air has completed the final requirements needed to offer scheduled service to anywhere in the world. However, the single seat reservation service will begin with routes from Downtown Orlando to Tallahassee and The Abaco Islands in the Bahamas.
Trax Air's service will utilize the Navajo, a twin-engine, 8 seat airplane, along with the Conquest, a 9 seat, twin-engine turbo prop capable of speeds of 300 knots, making the scheduled service an attractive alternative for its passengers. Additional travel routes and regional aircraft will be added in 2015 and 2016.
Trax Air is excited to bring such a rare and unique service to Downtown Orlando. Its customers and passengers will be able to easily travel to locations generally difficult to access from Orlando. With minimal security and pre-screening for every passenger, travelers will be able to immediately board the plane for departure, eliminating the hassle of long lines experienced at other airports.
"We are excited for our passengers, the City of Orlando, and the Orlando Executive Airport to be able to offer such an important and needed service. This marks a huge milestone for air travel in Central Florida," stated Bryan Brewer, Chairman and Owner of Trax Air.
This service, scheduled to begin in 2015, will be updated via its website at http://www.traxair.com/charter and by local news announcements. For any questions please visit our website or contact fly(at)traxair(dot)com.
###
Trax Air is an FAA licensed air carrier charter company that has been operating out of Orlando, Fla. for over 25 years, formerly as Air Orlando. Trax Air is also an FAA licensed flight school and aircraft maintenance facility with one of the finest safety records in FAA history.