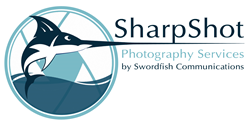 SharpShot Photography is intended to make photography a priority in the minds of clients, increasing the odds for successful media placement.
Laurel Springs, NJ (PRWEB) December 31, 2014
When it comes to generating publicity, a good picture can be worth well more than a thousand words, so Swordfish Communications has launched a new photography service that will help its clients garner media attention.
SharpShot Photography Services by Swordfish Communications fulfills an all-too-common need for compelling images to complement PR efforts, affordably. The service is available as an add-on to augment work Swordfish is already doing for a client, or as a standalone service for organizations that want to generate their own publicity, or simply desire quality photos for their social media or other marketing needs. Pricing starts at just $199, but can vary depending on time involved and whether or not a working relationship already exists.
"We've found that often photography is an afterthought. Clients hosting events frequently say 'I'll take some pictures with my smart phone,' or 'someone will bring a camera,' then supply us with mostly unusable images. If we're lucky, there's one picture that can be cropped or Photoshopped for publication," said Swordfish president Gary Frisch. "SharpShot Photography is intended to make photography a priority in the minds of clients, which can increase the odds for successful media placement."
Frisch notes that content with images is far more likely to be shared than text-only content, and editors and publishers know this, so are far more receptive to stories or pitches accompanied by an eye-catching photo. Additionally, a great photo adds drama, a vital ingredient for any good story, and can offer more opportunity to get across brand images or messages.
Swordfish is working with professional photographers specializing in shooting events, people, products and headshots to provide the service. Some are experienced photojournalists.
Earlier this year, Swordfish introduced Journalists by the Dozen, a stand-alone service that provides full contact information for up to 12 media of the client's choosing. Combined with SharpShot Photography, organizations can equip themselves to share their own stories with the media.
Founded in 2007, Swordfish Communications is a full-service public relations agency specializing in clients in the consumer goods, food and beverage, technology, recreation, aviation, and professional services industries. To learn more about Swordfish, SharpShot Photography, or Journalists by the Dozen, visit http://www.swordfishcomm.com or call 856-767-7772.