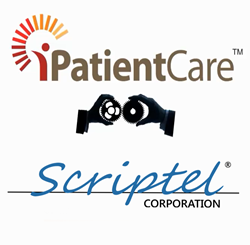 Our integration with Scriptel with its capacitive pen digitizing technology, is a durable and cost-effective way to electronically simulate pen on paper and in an eco-friendly way."
Woodbridge, NJ (PRWEB) January 02, 2015
iPatientCare, Inc., a pioneer in mHealth and cloud-based ambulatory EHR and integrated practice management solutions, announced the integration of Scriptel® Corporation's electronic signature pads with iPatientCare EHR and PMS Application.
At iPatientCare National User Conference 2014, Scriptel exhibited and demonstrated its products - a line of 1X5 type electronic signature pads - for iPatientCare EHR and PMS users. In addition to capturing signatures on consents and other documents, the signatures can also be stored in the patient demographics, which provides another way to verify identity in subsequent visits.
Scriptel offers three products that are compatible with iPatientCare: Desktop LCD for typical check-in usage, Compact for portability, and Desktop without LCD for a lower cost option. All three products feature Scriptel's unique EasyScript interface for browser-based applications that eliminates any PC installs to support the signature pads making systems running iPatientCare more secure and reducing software maintenance issues.
"Scriptel signature pads are the most reliable and best supported signature pads in the market today. Our battery-less pen technology was developed for retail applications where frequent use and 24/7 operation are the norm. The rugged design of our products will stand up to spills, drops, bumps and all of the other minor mishaps that can happen in everyday use," said Stephan Herron, Director of Sales and Marketing of Scriptel Corporation. "We are happy to have been selected by iPatientCare as a best-of-breed signature capture device and look forward to helping iPatientCare's customers go 100% paperless."
"iPatientCare, is always striving to make the workflow of office managers easy and accurate. Our integration with Scriptel with its capacitive pen digitizing technology, is a durable and cost-effective way to electronically simulate pen on paper and in an eco-friendly way," said Shahab Shaikh, Enterprise Integration Specialist, iPatientCare, Inc.
About iPatientCare:
iPatientCare, Inc. is a privately held medical informatics company based at Woodbridge, New Jersey. The company's unified product suite includes Electronic Health/Medical Record and integrated Practice Management/Billing System, Patient Portal/PHR, Health Information Exchange (HIE), and Mobile Point-of-Care Solutions for both Ambulatory and Acute/Sub-acute market segments. iPatientCare has been recognized as a preferred MU partner by numerous Regional Extension Centers (REC), hospitals/health systems and academies, and has been designated as a Test EHR by the CMS.
iPatientCare EHR 2014 (2.0) has received 2014 Edition Ambulatory Complete EHR certification by ICSA Labs, an Office of the National Coordinator-Authorized Certification Body (ONC-ACB), in accordance with the applicable eligible professional certification criteria adopted by the Secretary of Health and Human Services (HHS).
Full certification details can be found at ONC Certified Health IT Product List.
IPatientCare Inpatient EHR 2014 (2.0) Received ONC HIT 2014 Edition Complete EHR Certification from ICSA Labs, determines ability to support eligible hospitals with meeting meaningful use stage 1 and stage 2 measures required to qualify for ONC Health IT funding under the American Recovery and Reinvestment Act (ARRA).
Full certification details can be found at ONC Certified Health IT Product List.
The ONC 2014 Edition criteria support both Stage 1 and 2 Meaningful Use measures required to qualify eligible providers and hospitals for funding under the American Recovery and Reinvestment Act (ARRA).
Visit http://www.iPatientCare.com for more information.
About Scriptel Corporation:
Based in Columbus, Ohio, Scriptel Corporation has been the leader in capacitive pen digitizing technology since 1982 with more than 3 million solutions deployed around the world. Our ScripTouch electronic signature pads and custom OEM components for the retail point-of-sale and digital workflow markets deliver high reliability with unrivalled support. Visit us at http://www.scriptel.com.
And for a limited time, please visit http://www.scriptel.com/partners/ipatientcare/ to take advantage of an introductory offer on Scriptel signature pads or iPatientCare customers.
Scriptel and ScripTouch are trademarks of Scriptel Corporation.