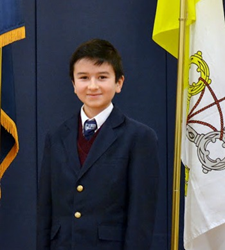 Lemont, IL (PRWEB) December 31, 2014
"Always Higher" is the motto at Everest Academy where the competition for the National Geographic Society Geography Bee recently challenged students from the ocean to the mountain tops. The National Geographic Society Geography Bee starts at the local level and quickly moves to the state, national and world level. Everest Academy held the academic competition for its middle school students. The competition began in the classroom and culminated in a school wide contest. The top overall winners from Everest Academy were first place winner, Mauricio B., who is a sixth grader, and Billy L., who is an eighth grader. Mauricio will take a written test in January in order to qualify for the National Geographic State Geography Bee.
Questions and answers for the Bee were provided by the National Geographic Society. Topics included places, names, and locations of cultural features, patterns of language, religion, and economic activities, populations, political systems, land forms, climate and environment. The format of the Geography Bee calls for brief, quick answers, usually one word or a phrase given within the allotted fifteen second time frame. Some questions require the interpretation of maps, graphs and statistics. Students from all fifty states participate in the National Geographic Society Geography Bee which is designed to encourage the teaching and study of geography The first place winner of the National Contest held in Washington DC, is awarded a $25,000 college scholarship.
The Everest Geography Bee is one of several annual competitions at the Everest Academy. These opportunities allow Everest students to participate in healthy scholastic contests where they can share their talents, exercise and develop their intellect, refine their public presentation skills and establish their confidence as leaders. The pace of the National Geographic Geography Bee is one that is quick, competitive and entertaining. The audience of students, faculty, parents and friends left satisfied having witnessed talent, healthy competition, and having learned more about our world.
Everest Academy is an independent Roman Catholic school in Lemont educating children from preschool through eighth grade. The teachers and staff are dedicated to forming the whole child by providing the highest level of academics, by building strong character, and by preparing generous leaders ready to serve the community. If you would like to learn more about Everest Academy's unique approach to education, please contact KC Wollenberg at 630-243-1995 or visit http://www.everestadvantage.org.