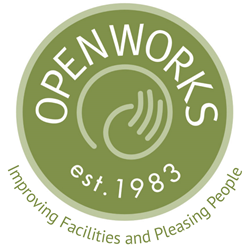 This country offers the chance for anybody from anywhere in the world, from any walk of life, to become successful - Eric Roudi
Phoenix, AZ (PRWEB) January 05, 2015
OpenWorks, one of America's leading integrated facility services franchises, was featured on the November 28 edition of Fox Business Network's Making Money with Charles Payne. The business and its founder, Eric Roudi, were celebrated during the "Salute to American Success" segment of Payne's wildly popular show that helps viewers make smart investments for their future. Fox Business Network and its website, foxbusiness.com are dedicated to offering in-depth and breaking business and financial news coverage.
The online version of the feature, titled Immigrant Entrepreneur: Thankful for opportunities in the U.S., shared the inspirational story of OpenWorks CEO Eric Roudi, an Iranian immigrant who has overcome all odds to become a successful entrepreneur. Roudi launched OpenWorks, a company focused on commercial cleaning and all other facility maintenance services, soon after graduating from college. He sold his first franchise in 1984 and his company now boasts more than 300 environmentally friendly franchisees across the nation.
In the feature, Roudi said he's thankful for the opportunities he's found in the U.S. "This country offers the chance for anybody from anywhere in the world, from any walk of life, to become successful," Roudi said. "It's based on hard work, and there's no better environment in the world to nurture that kind of spirit."
Roudi touches on challenges he faced as an immigrant and said his youth was his biggest hurdle as he tried to establish himself as a business owner. Roudi was in his early 20s when he started his business and shared that building open relationships with new vendors was at times a challenge due to his age. However, Roudi said he was able to overcome that challenge because "(he) worked (his) way up from that and didn't take no for an answer."
Here are links to Roudi's fantastic story:

For more information on this story, please visit foxbusiness.com.
For more information on OpenWorks, please visit openworksweb.com.
About OpenWorks:
Established in Phoenix, Ariz., in 1983, OpenWorks is a leading national commercial cleaning franchise that offers integrated facility services through highly reputable local affiliates. In 30+ years, the company has grown to 330 franchise locations in five states from Illinois to California.
OpenWorks is guided by a simple philosophy: a cleaner, safer and healthier environment means a more productive workplace. The OpenWorks franchisees and preferred partners who serve more than 1100 facilities each day offer more than simple cleaning and maintenance - they help their clients fundamentally improve their work environment. Each OpenWorks representative implements an environmentally friendly "Green Clean" program using the highest quality equipment.
The OpenWorks difference is all about open, flexible relationships. Each OpenWorks customer receives customized solutions that fit the needs of their specific facility.
For more information on OpenWorks, please visit openworksweb.com.