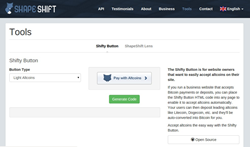 ShapeShift realized that there was a definite need for an easy way for businesses to incorporate altcoin payment options. Shifty tool is the answer.
Geneva, Canton (PRWEB) January 05, 2015
ShapeShift.io has released the Shifty Button, a tool that allows website owners that accept Bitcoin payments or deposits to accept any altcoin that ShapeShift supports automatically by placing simple HTML code into any payment page.
The Shifty Button is free and easy to add to any website. After the HTML code has been placed on web pages needed to enable a check-out process, the user is able to deposit leading altcoins, supported by ShapeShift.io, and the coins will be automatically converted into Bitcoin for the website owner.
"As the altcoin industry continued to grow over 2014, ShapeShift realized that there was a definite need for an easy way for businesses to incorporate altcoin payment options onto their online stores," said ShapeShift CEO Beorn Gonthier. "The easier the process is, the more places altcoin users can buy goods online, and the more growth the altcoin community will see in 2015."
As is with the use of ShapeShift's exchange site, there is no sign-up process nor account required for website owners to use the Shifty button.
As the digital currency ecosystem continues to rapidly grow, integration between platforms is becoming commonplace. ShapeShift.io, which launched in August 2014, has risen quickly as the most convenient way to buy or sell the leading digital assets, and now, one of the easiest ways to accept altcoin payments on any website that currently accepts Bitcoins. The site has integrated over 10 currencies to date, enabling acceptance of multiple cryptocurrencies.
Critically, ShapeShift's model has set a new standard for security and consumer protection, by offering conversion services without the need for user accounts and deposits. After the cryptocurrency exchange MintPal collapsed and lost user deposits, traders are increasingly realizing the risk of leaving money on deposit with any 3rd party. ShapeShift's innovation is to operate more like a vending machine, in which the user instantly deposits one coin and receives another one, with no significant period of trust or custodianship required.
Shifty Button free HTML code is available at shapeshift.io/tools.html.
About ShapeShift.io
ShapeShift formed in Summer 2014 to provide instant Bitcoin and altcoin conversion. The platform (available in both web and API flavors) represents the fastest, most efficient way to convert between coins within the Bitcoin ecosystem. It does not require the user to have an account.
The Swiss company has a strict "No Fiat" policy, meaning it does not use banks or political currencies anywhere in its operations. For more information visit http://www.shapeshift.io.