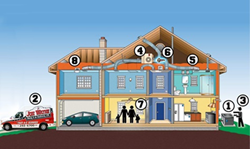 San Antonio, Texas (PRWEB) December 31, 2014
Homeowners are always looking for ways to save, and the experts at Jon Wayne Air urge San Antonio residents to consider these changes as part of their New Year's resolutions to have a more energy efficient and cost-effective year:
System Size – When it's time to upgrade to a new heating and cooling system, the size of the system is essential for maximum efficiency. A system that is too large will not cycle properly, and a system that is too small will not heat and cool effectively, costing more to run.
Schedule HVAC Services with Certified Professionals – Jon Wayne Air's technicians are NATE certified, ensuring customers receive the highest service quality. The cost of poor services can be great – when the wrong system is recommended or improperly installed, the result could be more than 20 years of excessive utility and repair bills, as well as poor comfort. Get into the habit of only working with certified contractors for all of your home maintenance needs.
Regular System Maintenance – The number 1 reason for HVAC system failure is dirt. This is something many HVAC companies don't want to disclose, because it could mean the loss of a sale of a new system. Homeowners should invest in a maintenance program to prevent system failure and to save big all year.
Central High Efficiency Air Filtration System – Typical disposable furnace filters do not adequately protect heating and cooling equipment or protect those living in the home from invisible particles. The best practice is to install a new high efficiency filter on the equipment. Filters need to be changed seasonally, or according to the manufacture's specifications.
Air Duct System Check – Possibly the biggest waste of energy in San Antonio homes that's often overlooked by most contractors is the ductwork. In San Antonio, most ductwork runs through unconditioned attics. The largest issue is typically that ducts leak large amounts of air. Even a perfect heating and cooling system won't be able to manage comfortable indoor air if there are hidden ductwork problems. Don't neglect ductwork and schedule an inspection along with HVAC system maintenance.
Air Purification – The inside of air conditioning systems and ductwork are dark, cool areas that are the perfect breeding ground for mold, bacteria, and dust mites, if left unattended. When this happens and the system turns on, the unclean air will be circulated throughout the home. By installing an in-duct whole house air purifier, the heating and cooling system can be turned into a whole house air treatment system.
System Controller – There are now advanced system controls available that not only solve humidity concerns, but also have features such as touch screens and WiFi, enabling control of the system from a phone or tablet. The right system controller or thermostat will allow the temperature to be set to reflect when the home is occupied versus empty (when everyone is away at work or school), so an empty home isn't being heated or cooled for no reason. This will result in savings on monthly energy costs.
Thermal Envelope – According to the US Department of Energy, 50-70% of homeowners' energy bills go towards heating and cooling. Residents of San Antonio are at the top of that range. Any heating and cooling system is only as good as the home's ability to retain the indoor temperature. To avoid the loss of cool indoor air in the summer and warm indoor air in the winter, proper insulation is essential. Without proper insulation, energy and dollars will be wasted, and the indoor air will be less comfortable. Consider speaking to a Jon Wayne technician about recommended insulation.
Equipment itself is only one part of the equation for total comfort and a reduced utility bill. For those looking for a high quality heating and cooling system that will provide optimum indoor comfort, reduce energy bills, and provide clean and fresh air for years to come, contact Jon Wayne Air at http://www.jonwayneair.com/.
About Jon Wayne Heating and Air Conditioning
Jon Wayne Heating and Air Conditioning is San Antonio's largest residential HVAC service and plumbing company. Their focus is to help customers create the most comfortable environment possible. Highly trained technicians use state of the art equipment and techniques to locate problem areas and maximize efficiency, providing homeowners with healthy and comfortable spaces.