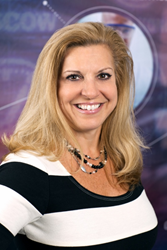 "We are very excited to add Rhonda to our senior leadership team. Her creativity and energy matched with our broad suite of solutions will be a tremendous benefit to our clients and to our organization," said Tom Cagney, President and CEO of Cagney Global
Irving, TX (PRWEB) January 06, 2015
Cagney Global Logistics, a leader in providing logistical and transportation services, today announced that Rhonda Moon joins as Vice President, Client Solutions. She will support the corporate initiative of creating a performance-driven, team-oriented culture and will be based at the corporate headquarters in Irving, Texas.
Rhonda will be responsible for building integrated business solutions, brand awareness and personalized supply chain solutions for clients. "We are very excited to add Rhonda to our senior leadership team. Her creativity and energy matched with our broad suite of solutions will be a tremendous benefit to our clients and to our organization," said Tom Cagney, President and CEO of Cagney Global Logistics.
With over 25 years of supply chain and transportation experience, Rhonda brings to Cagney Global professional skills that include customer centric focus, industry sector expertise and the ability to customize transportation and technology solutions. Rhonda will be a welcome addition to the services Cagney Global offers to its worldwide clients.
Prior to joining Cagney Global, Rhonda was a VP at SEKO Logistics. Previously, she held various positions with other global companies as Director of Training, Director of Multinational Accounts, Regional Sales Director and Executive for Business Development.
Rhonda holds a BA in Business Administration and Management from the University of South Florida. She is an active member in Council of Supply Chain Management Professionals (CSCMP) and Women in Logistics.
About Cagney Global Logistics.
Cagney Global Logistics has been serving customers since 1986. We are a privately held organization, providing a wide variety of logistic and supply chain services. Our services include warehousing, distribution, storage, global cargo transportation, business to consumer logistics, reverse logistics, supply chain execution and analytical tools. Cagney Global Logistics has locations in Colorado, Texas, California and Missouri and through our strategic partnerships provides transportation and distribution services throughout the world. For more information: http://www.cagneyglobal.com